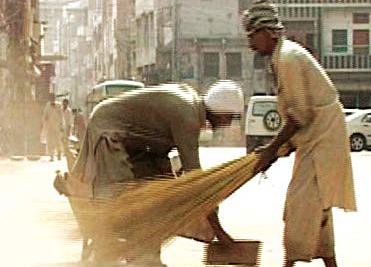 ---
SUKKUR: Roads leading to and from Sukkur were scrubbed clean on Thursday after the administration learnt that Sindh Chief Minister Qaim Ali Shah was expected to pass through the city.

Bunder Road and Station Road, the two main roads in the city that were built only three months ago, were choked with piles of garbage and construction sand. Workers from the Sukkur municipality had to bulldoze the road as garbage had blocked at least one lane. Residents believed that the city administration decided to scrub the roads on time for the visit to show the chief minister their actual width.

If the chief minister had seen that the Rs350 million he allocated for their construction resulted in such narrow roads, then he would have questioned the administration, they said. Shah attended a convention in Jacobabad on Thursday evening and was making a stopover at Sukkur to freshen up at the residence of Pakistan Peoples Party Senator Islamuddin Sheikh before going to his hometown, Khairpur. The Sukkur municipality took the news of his short stay very seriously and managed to complete the work that was being delayed for three months in just one day.

Apart from the two main roads, Minara Road and other small ones were also repaired. Talking to Express News, residents of Sukkur said they were shocked to see the municipality personnel working so hard, but they were happy that whatever the reason was, at least they will have wider and cleaner roads.

The Sukkur municipality has been facing a crisis for the past three months as its workers were on strike. The workers had warned that they will not work unless they are paid. During this time, no one was picking up the trash and no maintenance was being carried out. However, when the chief minister's arrival was confirmed, municipality workers were seen either supervising the cleanliness drive or carrying brooms to get the task done themselves.

Published in the Express Tribune, May 14th, 2010.