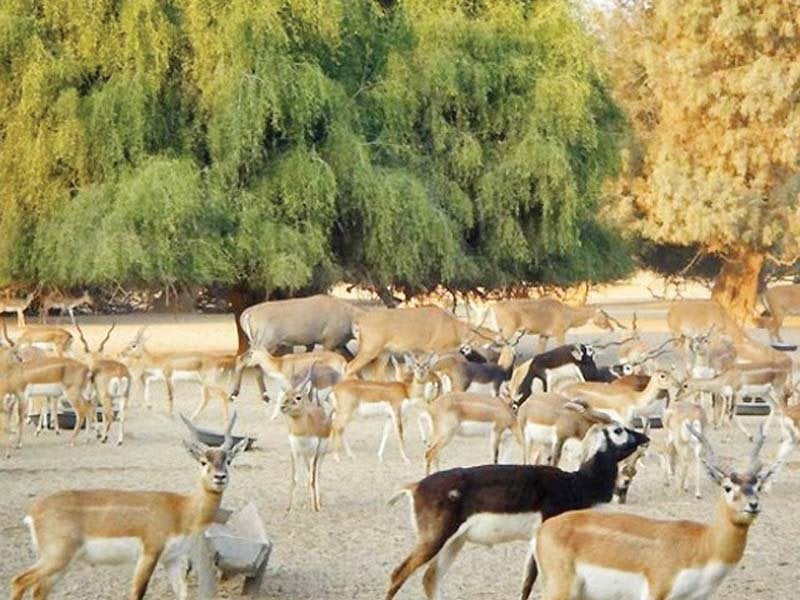 ---
KARACHI: Once home to natural habitats of wildlife and migratory birds, the Thar Desert was a jewel of nature but now these habitats are on the verge of extinction due to the conduct of human beings, lamented participants at a seminar on the 'Protection of Wildlife in Thar'.

The seminar was held at the International Centre for Chemical and Biological Sciences (ICCBS), University of Karachi (KU) on Wednesday.

The wildlife department's district officer for Thar, Ashfaq Ali Memon, shared some of his concerns about wildlife in the region through a documentary.

He explained that the Thar Desert forms a natural boundary between India and Pakistan and in Pakistan is spread over 20,000 square-kilometres of area. He explained that Thar is home to precious wildlife, which includes nilgai antelope, chinkara deer, peacocks, other antelopes, rabbits, partridges, sand vipers, Egyptian vultures, flamingos, jungle lizards, monitor lizards and sand grouses but sadly all of them are now endangered species.

In previous years, migratory birds were abundant during the winter season but recently their population has declined significantly, primarily because of illegal hunting and poaching, he said.

The wildlife department's chief provincial conservator, Saeed Akhtar Baloch, said that the importance of wildlife cannot be ignored and the wealth of wildlife is one of the Thar Desert's salient features.

Thar is in need of proper attention so that wildlife can be protected, he said. We need to eliminate as many causes of animal demise, such as climate change, global warming, pollution and illegal hunting, to prevent extinction and endangerment of animals, explained Baloch.

Baloch appeared hesitant to respond to queries put to him by journalists and students, he remained mum when asked by a journalist if the wildlife department would propose ban on licensed hunting in order to increase the population of certain species.

A student from Kharipur questioned why influential persons and politicians are allowed to hunt thousands of birds and deer but Baloch denied any knowledge about illegal hunting.

Thar conservator Ghulam Sarwar Jamali said that the human population is increasing but wildlife is on the verge of extinction, which is really a matter of concern for the nation. He said that now is the time to take measures and set priorities to create a balance between the human and animal population. He proposed that the emerging situation could seriously harm the ecosystem therefore there must be limits set for human settlements as wildlife is disturbed by humans living close to them.

ICCBS director Prof Dr M Iqbal Choudhary said that the survival of human beings is linked with the endurance of wildlife. He said that Thar is rich in wildlife but it needs proper protection and conservation. Despite the importance of wildlife, humans are losing wildlife globally, he said, adding that during the last 40 years populations of mammals, birds, reptiles, amphibians, and fish around the globe have dropped to 52%.

Published in The Express Tribune, January 26th, 2017.
COMMENTS
Comments are moderated and generally will be posted if they are on-topic and not abusive.
For more information, please see our Comments FAQ