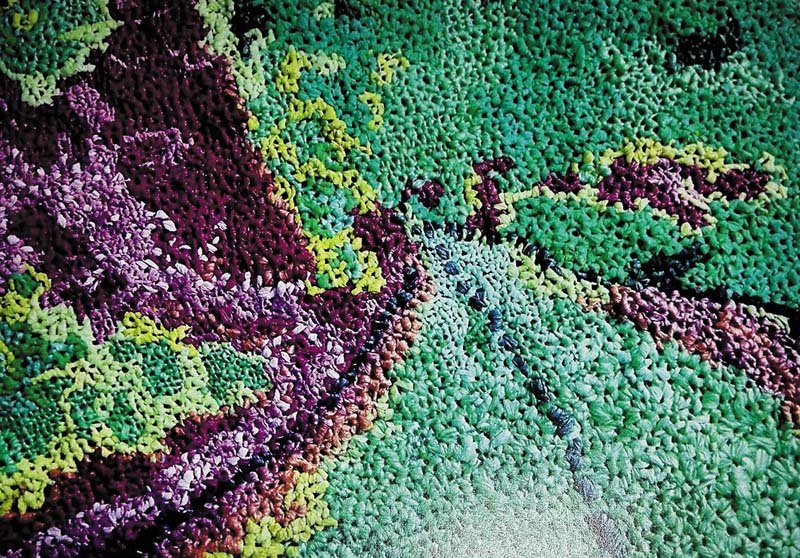 ---
LAHORE: As many as 10 students from the National College of Arts' textile design department have displayed their theses designs, ranging from visual reinterpretation of centuries-old motifs to other innovative ideas using several techniques.

Amen Asif Malik's thesis titled 'It's Not Waste until it's Wasted' projects her concerns about turning living spaces and cities into junkyards. "We live in a polluted world and my worst fear is seeing Abbottabad, my hometown, turning into a huge landfill site," Amen said. "Hence I have always dreamt of doing something productive to save my city from becoming a dumping ground."

She said her project was based on a similar theme of upcycling waste materials. "Upcycling is the process of transforming waste materials into new materials of better quality and by making yarn out of waste polythene. I have created surfaces that can have multiple usages," Amen elaborated.




Another student Amna Hassan's project 'The Second Skin' breaks the dichotomy of hemp in order to create a new surface. "Opposed to chemically treated fabrics, I have used natural techniques for experiment and to achieve a simplified beginning in biotextile for Pakistanis with the magical plant fibre hemp," she explained.

According to Amna, the idea for her project came from the fact that with the advancement in technology and biology, the future materials of textile will also become equally advanced.

Bazila Malik's thesis project called 'Pattern Through Ages' is inspired by material remains of Mehergarh ruins, dating back to approximately 7,000BC, and its day-to-day life activities.

"How those activities and surrounding permeated into their design patterns and motives and how those patterns travelled to the contemporary times in the form of Bloch embroidery as the mainstay of my thesis," Bazila said while explaining her work.




Her fascination with Baloch embroidery drove her to look for its origin and that is how she was inspired to work on this topic as her thesis. "Joining loops through times, the expression of my work is a transformation and evolution of pattern through technique and design into present-day times."

In her statement in the thesis booklet, NCA Textile Design Department head Iram Zia said that every year students dived into the vast spectrum of textiles, sometimes they come up with practical design solutions while at other times it maybe a halfway journey to be resolved in coming years.

"Some students may develop new techniques and methods while others just enjoy finding innovative possibilities with old materials while many may relieve the tradition and craft," Iram remarked.

Published in The Express Tribune, January 25th, 2017.

 
COMMENTS
Comments are moderated and generally will be posted if they are on-topic and not abusive.
For more information, please see our Comments FAQ