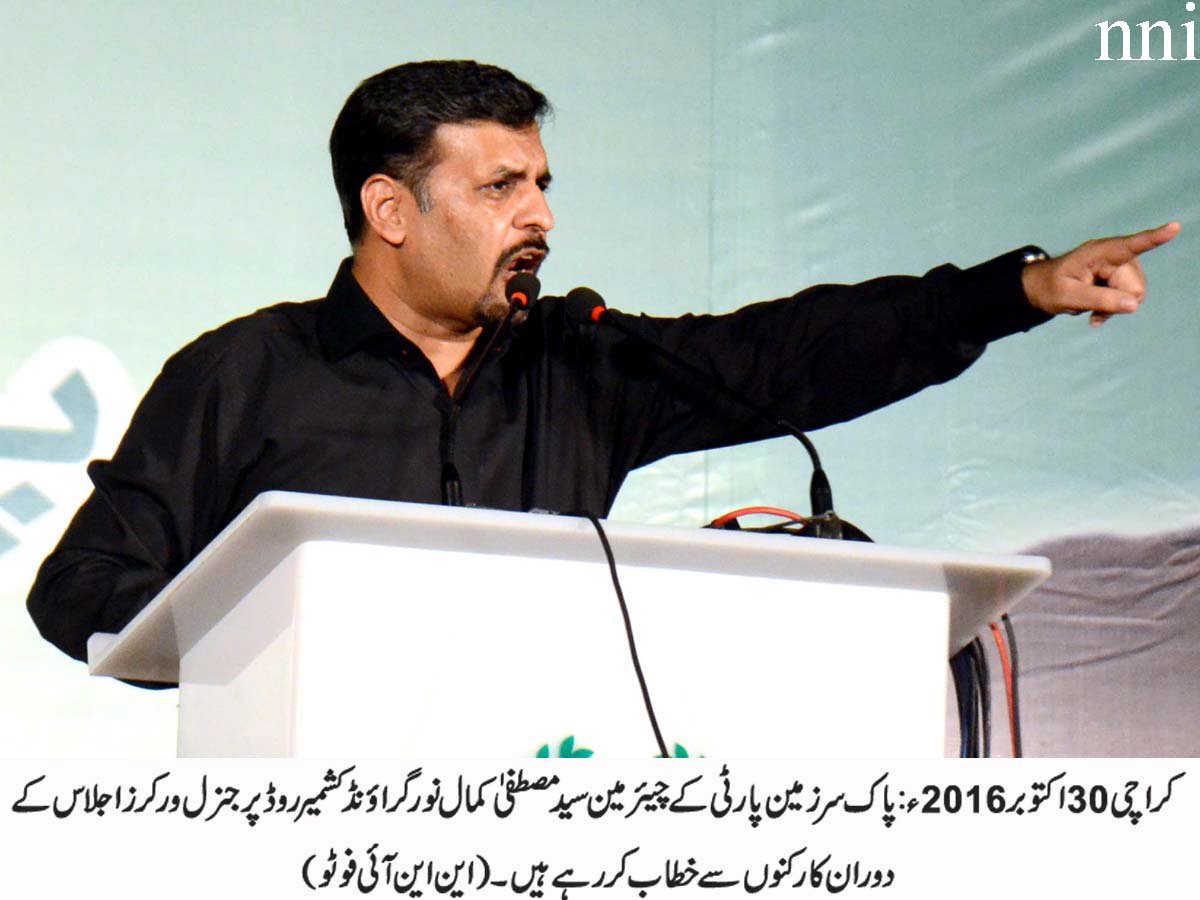 ---
KARACHI: What is wrong in rehabilitating people who have been involved in some criminal activity in the past? What option do we have apart from this? The state is also using the same solution in Balochistan where assault rifles of Baloch insurgents are exchanged with flowers and they pay them a cheque of Rs0.5 million.

Pak Sarzameen Party (PSP) chairperson Mustafa Kamal presented these arguments during a press conference at Pakistan House on Friday. He was flanked by PSP president Anis Kaimkhani and leaders Waseem Aftab and Iftikhar Randhawa.

According to him, around 1,400 people rounded up in Karachi operation are in prison while around 150 others have been missing. Kamal questioned what the state plans to do with all these people. He was of the view that bringing these people back into society as respectable citizens is the only option. "We are being criticised for doing the same," he said.

Kamal referred to Muttahida Qaumi Movement (MQM) - Pakistan chief Farooq Sattar's coordinator, Aftab Ahmed, who was allegedly killed in jail custody. "His party has forgotten him but may I ask the state for any inquiry into the matter?" he asked. He added that killing people or putting them behind bars for so long will only help those who were earlier using them for their criminal activities.

'Karachi operation can derail in one day'

"The successful Karachi operation we have been praising for so long could derail in one single day if we are left with no solution for the 1,400 people who were compelled to become criminals because of social and economic deprivations," he said. "They should [now] be given a chance to choose between right and wrong just like Almighty Allah also provides mankind [the chance] to apologise until the last breath."

Conversions

Kamal explained that if someone is coming to him, it is just like he is converting from evil to good. "If someone does not like what I am doing, they can go ahead with whatever they want to do," he said. "They can pick such people [up] and kill them but that will not bring sustainable peace in the city."

He was of the view that just like cheques are given to people in Balochistan who give up militancy, a package should also be announced for criminals here as economic opportunities can help them start a new life.

Talking about his forthcoming public gathering on January 29, Kamal said it will be the biggest public gathering in the history of Karachi. Kamal said that the reason for organising this public gathering is not for just a show of power or giving out the dates of future public gathering. "We have planned to educate the people coming to our public gathering about their rights and will prepare them to question those who were elected through their votes," he said.

Published in The Express Tribune, January 21st, 2017.

 
COMMENTS
Comments are moderated and generally will be posted if they are on-topic and not abusive.
For more information, please see our Comments FAQ