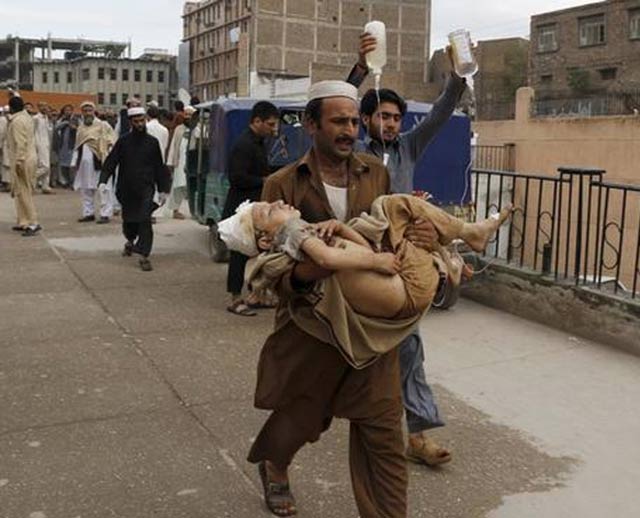 ---
The October 2005 earthquake claimed over 73,000 lives across Kashmir, Khyber-Pakhtunkhawa and Islamabad. The very same day, I left for Hazara division to cover the devastation that ensued. By October 11, the roads snaking the hills and mountains in northwestern and northern Pakistan were impassible. Not due to landslides, but vehicles and volunteers rushing from as far as Karachi and Quetta to the disaster zone. I never felt so proud as a Pakistani as I did while covering the colossal disaster. The spirit of giving and volunteerism rivalled that of 1947 and 1965 war. Even prior independence, Muslims of the subcontinent displayed remarkable benevolence during the Khilafat Movement (1919-1924) on inspiration by Jauhar brothers.

On May 28, 1998, Pakistan's tit-for-tat response to India's nuclear tests brought the most stringent sanctions. Economy was mishandled in the aftermath while debt had already piled up. Nawaz Sharif, the then prime minister, announced Qarz Utaro Mulk Sanwaro — National Debt Retirement Programme (NDRP) — aiming to politely clasp the belt around already crushed people in the name of patriotism. Within months, the nation donated Rs89 billion. The sum may appear paltry against the hefty Rs1,500 billion external debt but given the conditions, it proved that its trademark magnanimity has not withered away. On October 12, 1999, democracy headed southwards, and Musharraf's military rule began; when like everything else the Nawaz government had initiated, the NDRP was also politicised and scandalised for political expediency. The vicious propaganda campaign bruised public trust in the state. Instead a forensic audit could have helped. It wasn't the first time though for embezzlement of zakat funds with impunity in the 1990s had already upset the people's confidence in the leaders.

Nonetheless, the knack for giving did not wane. The nation which opened its heart many a time after calamites, wars and strategic needs like nuclear programme, diverted its focus from the state-run donation campaigns to the calls of fellow citizens, like Abdul Sattar Edhi, Imran Khan and Ibrarul Haq. Today, Pakistanis give generously and anonymously to any credible and honest citizen venturing for a noble cause whether of national scale or confined to a village.

With corruption, irregularities and politicisation rampant, the state continues to lose its credibility to collect tax what to talk of voluntary donations. The Auditor General's report for 2014-15 pointed out irregularities worth Rs390 million in Pakistan Baitul Mal. The national welfare fund has been in the national press for such practices soon after its inception in 1991.

The Benazir Income Support Programme (BISP) is another comparable case in point. The British press has been awash with stories of alleged financial malpractices. The UK MPs have been urging the Westminster to halt its share of BISP funding if money is being embezzled in Pakistan. Rejecting the demand, Premier Theresa May told a parliamentary briefing, "In the last four years, cash transfers supported by UK aid have helped almost nine million of the world's poorest people to buy food, medicine, and clean water." Since number of beneficiaries may rise from 235,000 families in 2012 to 441,000 families by 2020, it's even more imperative to purge any wrongdoings in the charitable program. There are, however, no evident signs of reforms so far.

Can the public servants not spare charities like Baitul Mal and the BISP from abuse? The answer is an embarrassing no. Theft from the state coffers is as much a violation of writ of the state as is keeping and using illegal weapons. Ironically, the former remains with impunity while the later merits Zarb-e-Azb.

Each foreign penny invested in Pakistan as humanitarian or development aid takes the toll at national prestige. Owing to misplaced priorities, the share of foreign development and humanitarian assistance has been on the rise for three decades. Can Pakistan not replace foreign financial assistance with technical cooperation?

When an earthquake measuring 7.9 on Richter scale devastated the state of Gujrat in 2001, India turned down offers for foreign financial assistance with thanks. Ever since, our eastern neighbour not only caters to national emergencies with its national resources but is also boosting its humanitarian assistance globally. Such acts of compassion also augment a country's soft image, which for the last two decades, Pakistan continues to be in dire need of. Cuba has long been known for being amongst the first countries to send doctors to calamity-hit regions of the world. Sri Lanka has unrivalled repute for cornea donation. The Netherlands and Ireland are two small European nations with the heart of gold.

Despite massive outpouring of global humanitarian support after 2005 earthquake and 2010 mega floods, Islamabad has not shown the courtesy to return the favour. Pakistan has not even been compassionate enough for its proverbial allies. For instance, Turkey is hosting over three million Syrian refugees, who escaped Bashar al-Assad and his allies' excessive use of force including chemical weapons. Instead of dispatching relief goods, Islamabad has preferred to look the other way. Remember, Turkey was the first country to send SOS teams and supplies on the very evening 2005 earthquake had hit. Similarly Jordan and Lebanon have been hosting over two million refugees each for the last four years. Pakistan's last humanitarian intervention was sending relief goods and medical staff to Nepal's earthquake victims. Since the landlocked Himalayan country is heavily dependent on Delhi, Islamabad could not afford to overlook. It was more of a foreign policy need than an act of pure compassion!

Pakistan ought to institutionalise humanitarian diplomacy, "which serves to mobilise public and governmental support and resources for relief operations to facilitate effective partnerships for responding to the needs of vulnerable people." Humanitarian diplomacy can't be practised with the prevailing reactive and ostrich mindset customary in Pakistan's ministry of foreign affairs. It requires advocacy, negotiation, communication, formal agreements, and above all, the ever-ready capacity of human resource and goods for deployment.

Owing to back-to-back natural calamities and internal displacements resulting from military operations in Swat and tribal agencies, Pakistan has enough trained manpower to manage humanitarian situations at home and abroad. While such expertise exists in the non-governmental sector, the state institutions like Pakistan Red Crescent need to be revived in their true spirit. They lack motivation, teamwork, training and accountability. The country requires volunteer training institutes to harness empathy of its energetic people, 63 per cent of whom are blow 30 years of age. The Kashmir earthquake did result in creation of National Volunteer Force but only to be politicised by General (retd) Pervez Musharraf and federal minister Mohammad Ali Durrani. It could never be transformed into national volunteer movement. The country's educational intuitions are already devoid of programmes like boy scouts and girl guides. The nation engulfed in war against terror and at the risk of nuclear conflict not only needs youth trained for emergency humanitarian assistance but also civil defence. The hurricane-hit Cuba raised emergency response teams of doctors and nurses for its national needs, which went on to become its global hallmark.

Since 2014, the ministry of interior has come down hard on the international NGOs after a foreign charity was involved in a CIA operation. While stringent regulations are utterly necessary, the country must also work to enhance its capacity to deal with humanitarian and development challenges. Pakistan also has moral responsibility to the world, which has never left it alone in the hour of need.

Published in The Express Tribune, January 21st, 2017.

Like Opinion & Editorial on Facebook, follow @ETOpEd on Twitter to receive all updates on all our daily pieces.
COMMENTS (3)
Comments are moderated and generally will be posted if they are on-topic and not abusive.
For more information, please see our Comments FAQ