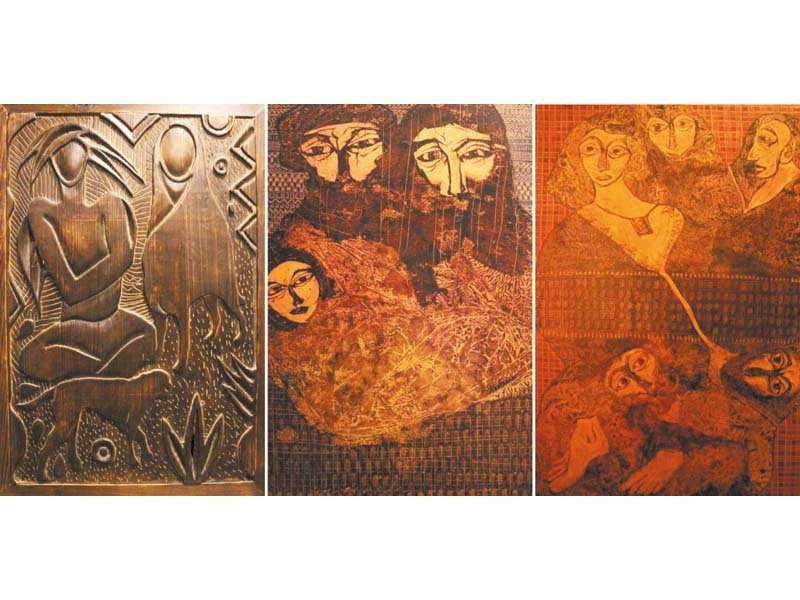 ---
ISLAMABAD: In dark earthen tones of browns and blacks, the figures and landscapes drawn by Akram Dost Baloch give a rugged feel from the plains of Balochistan.

The artwork, part of an exhibition titled Identity – which opened at Satrang Art Gallery on Tuesday evening – is the latest in a long line of work through which the veteran artist has tried to showcase his native land.

"My colours are picked directly from the rich palette of the exquisite dresses and rugs of my beloved land," Baloch writes in his artist's statement.

His work stays within a very limited pallet of browns, blacks, reds and some blues.

Baloch mostly draws shrouded figures of men and women in his work, playing with their relationships. The women usually have their heads covered while the men are almost always depicted with turbans on their heads and the lower half of their face either covered with a handkerchief or a thick beard.

As has become his signature of sorts, Baloch's subjects have very intense eyes. However, in his latest work they rarely look back at the viewer and there is a feeling that they are deliberately avoiding eye contact.

Baloch calls his latest work a contemporary dialogue with his surroundings. "The blank-faced people in my paintings and wooden reliefs depict reminiscent of a time when social oppression was the norm and artists craved opportunities to express themselves," he said.

"My images depict the untold, indescribable stories of people who faced [adverse] socioeconomic conditions.

"My childhood memories linked back to my mother's unique expertise of crafting various shapes, figures, animal patterns on clay pots, made lush coloured embroideries and weavings," he adds, explaining the deep earthen tones he has employed – breaking from the tradition of using a more colourful pallet drawn from Balochistan.

"The backgrounds are dusky and rustic with hues of orange and brown that are not able to detach from the air of sullenness, even when the landscape is suggestive of streams and fresh fields."

He added that he had looked for ways to express how people were pondering over the dilemma of identities. "In my paintings, people are hidden behind their own layers. Men with turbans and beards while women hiding behind their veils."

"The blankness in their eyes speaks a language of their own," he explains.

While most of his work is oil on canvas, he has included a few of his rare wood reliefs as well. With a brown varnish over his work, they add to the pallet in addition to an interesting blend of texture.

Asma Khan, the gallery's director at the inaugural, said that Baloch's imagery is "not only a visual treat using bold colours and strong lines with traditional motifs but a socioeconomic narrative of society and his people."

Published in The Express Tribune, January 18th, 2017.
COMMENTS
Comments are moderated and generally will be posted if they are on-topic and not abusive.
For more information, please see our Comments FAQ