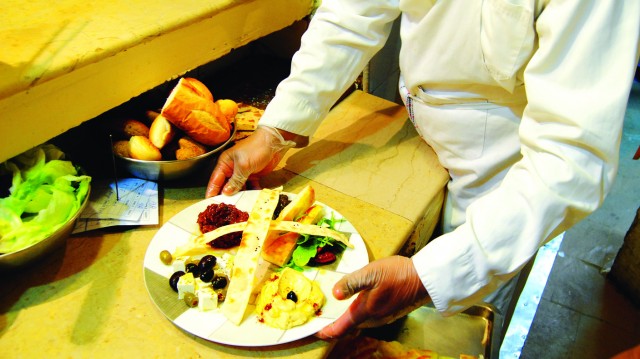 ---
It's mildly discomfiting to hear Ayaz Khan, the man behind Okra, admit that he had qualms about opening what is arguably one of the best restaurants in Pakistan.

Okra has been part of the Karachi dining circuit for over a decade now, and even in the midst of inflationary nightmares, it is difficult to get a table less than a few days in advance. But as with any business — and make no mistake about it, a restaurant is as much about business as it is about serving food — there's a lot that happens in the background that remains unnoticed.

Khan is brutally honest about his experience with Okra. "Initially, I was petrified. I was managing food and beverages at a hotel, but a time came when I had to leave; I couldn't work in hotels where it's all about volume, big parties and the mass production of food. I thought to myself, why do we have to have things out of freezers?" It was with this in mind that he decided to work towards his own establishment.

For years, he had struggled with the politics of large organisations, of places where he was occasionally empowered, but also of companies where everyone interfered ("I had a chief engineer who once came to me to tell me about colour schemes and interior design and all I could do was wonder about where he got his expertise on it!" he laughs). When he decided to carve out his own path, the greatest challenge Khan faced was learning how to do business. He had cold feet.

"I thought you needed two or three million dollars, but really, all you need is fire and a stove." It took him about three months to go from inception to launch. "You have to start very small and with a very open mind," he insists, when the issue of scale and size comes up. "It's not about high prices and big menus. When I started out, my mother gave me bed sheets to use as tablecloths." What is clear, as our conversation progresses, is that opening and running a restaurant requires not just business sense, but also vision and a healthy helping of passion.

"If you're just thinking about the return on your investment, it's never going to work," he notes. "When I started Okra, the last thing on my mind was "How much will I take home?" I was focused on trying to ensure that I served the best quality produce that I possibly could." In sharp contrast to its current offerings, Okra began as a Pakistani restaurant, with an emphasis on food delivery. "I wanted to start up the restaurant but I couldn't sit back and wait for it all be perfect," he remembers.

While construction on the premises began, Khan took the waiting period as an opportunity to "stress-test" his ideas — to see if he could actually manage to produce food in volume without lowering the quality of his offerings. "What I was really focused on was 'fine food', not just regular food," he points out. He admits that Mediterranean cooking became his focus partly because it was trendy at the time but also because it was so rooted in the idea of fresh flavours. "I wanted to do simple foods, the kind of meal that goes from source to pan to plate.

The idea was to cook well, to get lots of flavour and use fresh herbs and ingredients. The food should have its own flavour, it shouldn't be drowned in sauces and dressings; that's why Mediterranean food is so good. It plays up the actual taste of the ingredients, not of everything else that you add to them." The cuisine was relatively easy though. The real difficulty in the Pakistani restaurant business is in finding staff. With no vocational training institutes or culinary schools in the country, people are extraordinarily difficult to come by, and even harder to retain.

There is no professional help available: staff have to be trained from scratch, and by the time they're completely competent, two or three years have already gone by. It also doesn't help matters any that new restaurateurs prefer to poach staff from existing operations rather than really taking the time and effort to build up their own teams. Given that going out to eat comprises a disproportionately large part of Pakistani nightlife, it's no surprise that lots of people want to get into the food service industry.

In the last 10 years, restaurants have taken off, massively in some cases, crashing and burning in others. But at the end of the day, there's a finite pool of resources: it may take two or three years of training to teach someone how to make a basic pepper sauce well, consistently, but those years of investiture in someone fall by the wayside every time a new eatery opens up. Loyalty is well and good, but as Khan notes, "All the salaries are now being made inflationary — everyone's offering above market price, so you have huge amounts of turnover. What you need to do is take people who may start off as cleaners and dishwashers, but then also move these people up the ranks and grow them internally.

"The problem with running a restaurant," he is careful to emphasise, "isn't about how well you did or how well you're going to do. Nothing is set: you're only as good as the last plate served. People don't perform unless there's constant gauging and guidelines in place. All the management techniques in the world don't work; I have to be here in person, even now, to make sure that things are running smoothly."

This is how restaurants survive, by ensuring that things are right all of the time. Khan, even now, spends huge amounts of time in the kitchen, doing all the quality checks and keeping an eye on his chefs and wait-staff. "Eventually," he admits, "I may even take a vacation. But if you're going to start a restaurant, don't expect to go on holiday any time soon."

Published in the Express Tribune, May 16th, 2010.
COMMENTS (1)
Comments are moderated and generally will be posted if they are on-topic and not abusive.
For more information, please see our Comments FAQ