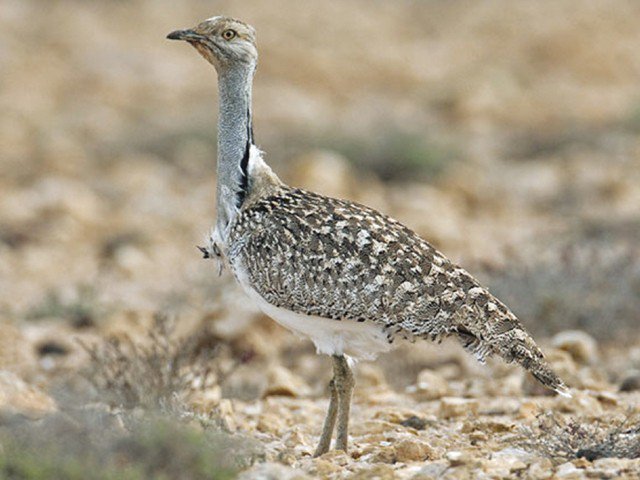 ---
QUETTA/DOHA: A group of villagers brandishing guns and knives attacked the convoy of a Qatar royal family member on an expedition to hunt the houbara bustard, a rare bird whose meat is prized by Arab sheikhs, officials said on Monday.

The hunting party was unhurt, but three security guards were wounded during the attack on Sunday evening in Musakhel, Balochistan, district deputy commissioner Muhammad Yasar said.

"A case has been registered against 25 people," he added.

Police said the villagers turned violent after they were prevented from meeting the visiting royal to seek donations to build a mosque.

A Qatari official involved in the sport of falconry confirmed the attack by a large group of men on a convoy of hunters that included a royal family member. He declined to identify the individual, but said the party was safe.

Arab Houbara bustard hunters' convoy attacked in Panjgur

"Qatari hunters apply and pay for government hunting permits and donate to local communities and wildlife conservation," the official said. "Unfortunately there have been attacks led by armed groups."

The International Union for Conservation of Nature lists the bustard as a vulnerable species with a global population ranging from 50,000 to 100,000. It has almost vanished on the Arabian peninsula.

Last year, the Supreme Court lifted a ban on hunting the bird after the government argued it hurt relations with Gulf states whose wealthy hunters traditionally travel to Pakistan to pursue the endangered species with falcons.

To seek favour with communities on whose land they pursue prey, Arab hunters have built roads, schools and mosques in places like Balochistan and the province of Helmand in neighbouring Afghanistan, while residents also benefit from the international-standard airstrips that can spring up.

Finance division releases Rs250 million to protect Houbara bustards

New four-wheel-drive vehicles brought in for the hunt are sometimes left behind as gifts for regional leaders.

But critics say that hunting with falcons, a practice Arab nomads used to survive life in the desert, is today a reckless hobby that threatens the houbara and funnels money into areas controlled by militias.

In December 2015, about 100 gunmen kidnapped at least 26 Qataris from a desert hunting camp in Iraq near the Saudi border. A member of Qatar's ruling family was freed in April 2016, along with an accompanying Pakistani man.