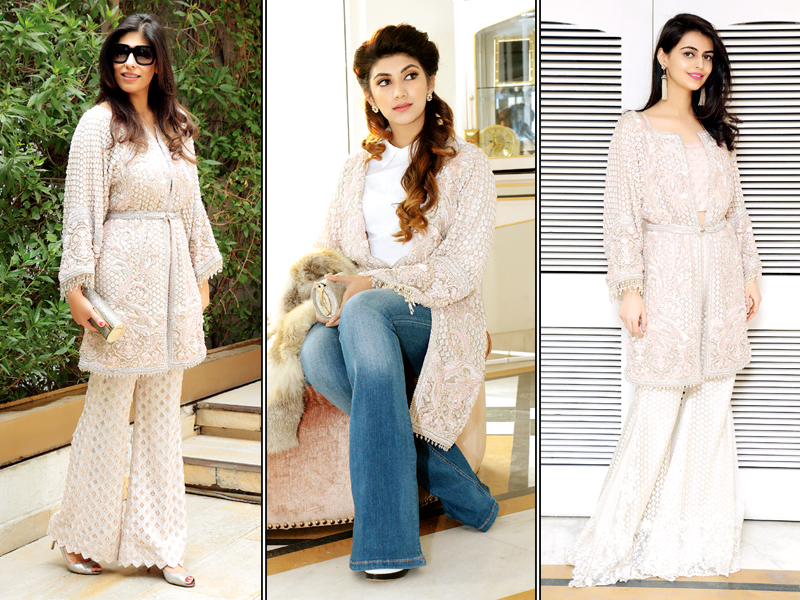 ---
While trends fade, style remains eternal and one piece can be put together in many different ways. In this feature we have three fashionistas showing us how to put together an item from a designers collection, according to their own individual style and taste!


A masculine influence lends structure to the feminine silhouette, while technical, tonal fabric elevate the jacket to new heights of modernity. Tassels on the hem and belt bring forth the perfect fusion of sophistication and modern sensibility, staying true to the signature style of Faraz Manan.

Bakhtawar Malik




Student

I like trying new things and being up-to-date with trends. My personal style could be defined as edgy yet chic. I wore the Faraz Manan jacket with a pair of off-white, extra-flared pants. I got a simple blow-dry from Rachel at Arammish Spa. Finally I paired the outfit with my spiky, silver Christian Louboutin heels. I would wear this to a wedding reception.

Zainab Malik






Managing Editor, Niche Magazine

My personal style is minimal; I usually keep it very 'safe'. I first wore the jacket the way it's supposed to be worn. I think the jacket is more flattering with the buttons closed. Then, I wore these beautiful, worked pants that went perfectly with the Faraz Manan piece.  My hair and make-up was done by my favourites, Fari and Rachel at Arammish Spa. My go-to accessory for weddings is a pair of Jimmy Choo heels — I swear by them! Finally, I grabbed my splurge buy of 2016 — my beloved clutch. I would wear this look to a dholki or a daytime wedding event.

Rabiya Umair Abid




CEO, Zhoosh

My personal style is classic with a twist. I went for a laidback, winter-luxe look and paired this beautiful beaded jacket with a crisp white shirt, flared jeans and fur. I kept my make-up minimal with defined eyes so my Zhoosh lashes could do all the talking. My hair was half-tied so the focus remained on the jacket, which I would wear to a wedding brunch this season.