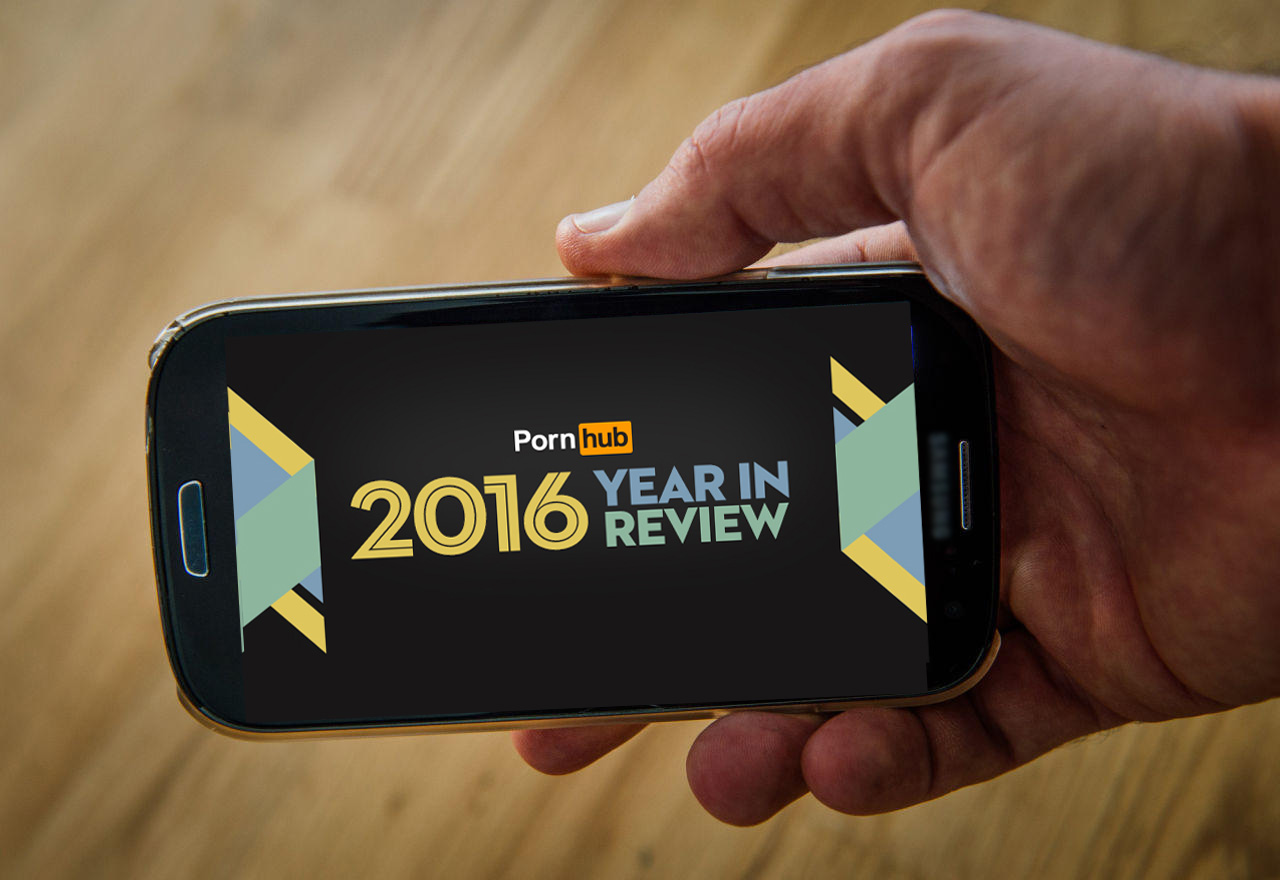 ---
More people are watching porn on smartphones than ever, PornHub, one of the biggest adult websites revealed.

In its annual review of how people around the world watch porn, PornHub claimed that nearly 92 billion videos were watched over the course of 23 billion visits to the site. That's 64 million visitors per day, or 44,000 every minute. To put things in perspective, this accounts for around 4.6 billion hours of porn watching.




In terms of porn watching, as always, the United States dominates the list, driving a whopping 40% of visits to the site – with the UK following in second place. Canada jumped one spot to reclaim its third position this year, pushing India out of the top 3 for the first time since 2013.

Smartphone domination

It seems that mobile browsing is also dominating the porn watching habits. PornHub revealed that visits to the site from smartphones are continuously on the rise. In 2016, 61% of the traffic was from cellphones, registering an increase of 9% from 2015, major of which was stolen from desktops which witnessed a decline of 8 per cent from a year ago. The traffic coming from Tablets dropped 1%, contributing 11% of the total traffic.




Two countries that have seen massive increase in mobile traffic include Cuba and Turkey. Cuba witnessed an increase of 310%, while Turkey saw an increase of 245% in mobile traffic.

India now in 'Big Three' of porn consumption

In third was Sudan, trailing far behind the top two countries with an increase of 87% in mobile traffic share. Ukraine and Belarus experienced a 75% increase in mobile traffic and Armenia rounded out the top 10 list with an increase of 65%.

Although South Africa rank 20 on the list of most porn watching nations, it leads in term of most traffic to the site through smartphones with 73%. Not far behind are the US, India and Philippines with an impressive 70% of hits to the site coming from smartphones.

Windows users are bigger wankers

While majority of streamers coming to PornHub preferred mobile browsing and desktop made up less than one third of total traffic, statistics revealed Windows users are by far the busiest wankers on the internet.

PornHub 'mocks' Twitter, offers to buy Vine

About 80% of the users streaming from the desktop were Windows users, while Mac OS and Linux accounts for 14% and 3% of the desktop traffic, respectively.

On desktops, 51% of the users preferred using Google Chrome to access the adult website, followed by Internet Explorer and FireFox with 14% and 11% of the traffic share.




However, on mobile devices, the traffic is pretty large even with Android and Apple iOS almost at par with one another. Android users accounts for 50% of the mobile traffic to the site, while Apple iOS are following closely 47% of PornHub's mobile users. Android's mobile market share has increased by 5% over the last year.

More people using gaming consoles to stream porn

It seems gamers are utilising consoles for more than playing games. According to PornHub's data more and more people are choosing to view their porn on PlayStation.




More than half of PornHub's traffic from game consoles stems from PlayStation, recording an increase of 7% from 46% in 2015 to 53% this year. Behind PS is Xbox which has the second most PornHub users coming from game consoles. However, they have lost 10% of their traffic share from 2015. But PS Vita was the biggest loser in game console traffic share; its share came down 38% from 39% in 2015 to meagre 1% during the year under review.
COMMENTS (8)
Comments are moderated and generally will be posted if they are on-topic and not abusive.
For more information, please see our Comments FAQ