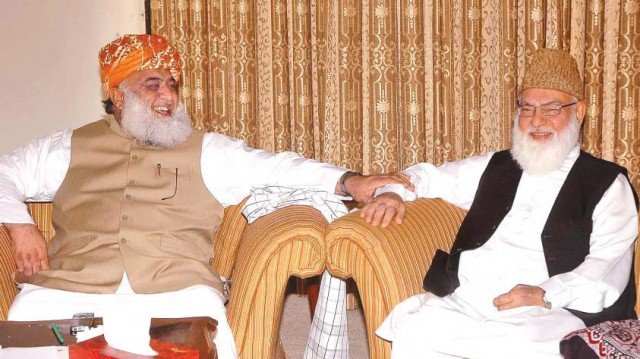 ---
ISLAMABAD: Maulana Fazlur Rehman has assured leaders of religio-political parties that his faction of Jamiat Ulema-e-Islam (JUI-F) will quit the coalition government if they agreed to revive the six-party political alliance – the Muttahida Majlis-e-Amal (MMA).

At an informal meeting here on Wednesday, top leaders from six religious parties, which were once part of the MMA, discussed the prospects of reviving the alliance. According to insiders, other parties, especially the Jamat-i- Islami (JI), urged the Maulana to part ways with the coalition government if he wanted to revive the alliance. "Maulana Fazlur Rehman promised that he will do that," a JUI-F leader told The Express Tribune on condition of anonymity.

The JUI-F is a coalition partner in the PPP-led government and two of its lawmakers are federal ministers. Six religio-political parties had formed the MMA ahead of the 2002 general elections and were able to form governments in Khyber-Pakhtunkhwa and Balochistan. Intelligence agencies later took credit for clubbing together the alliance, whose main role was to stop the return of another PPP government.

The MMA had largely cashed in on anti-American sentiments in the two provinces bordering Afghanistan, where the US-led coalition troops had toppled the Taliban regime in 2001. However, the MMA broke down in late 2007 when the JI decided to boycott the general elections but the JUI-F decided to contest the polls. Talking to media after Wednesday's meeting, Maulana Fazlur Rehman said that the participants agreed to meeting again in Lahore on June 12.

Published in the Express Tribune, May 13th, 2010.