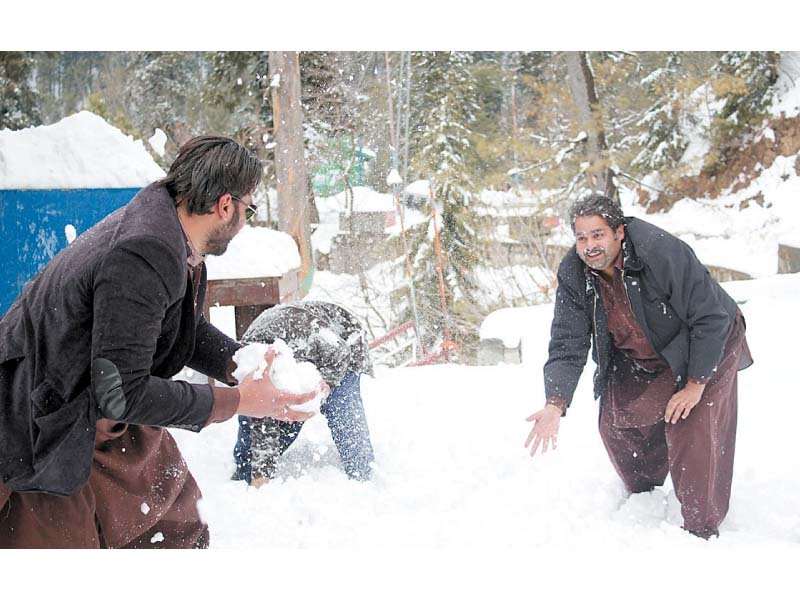 ---
ABBOTTABAD: Daily life was crippled in the hilly parts of Hazara Division on Friday after heavy snowfall and rain continued to lash different parts of the region for the   third consecutive day on Friday.

Business activities remained suspended in many areas, while tourists were also not allowed to visit places beyond Kaghan owing to land sliding and the lingering fear of getting stranded.

Officials told The Express Tribune that most of the roads remained blocked for traffic owing to the heavy snowfall. The most affected areas were Galiyat areas in Abbottabad, Mansehra, Bhogarmang valley, and Kaghan valley.

Nathiagali and Ayubia in Abbottabad received 1.5 to 1.75 feet of snow, while the hills of Galiyat region received 1.75 to two feet of snow till Friday evening, locals and officials said. Snowfall is expected to continue throughout  the night.




Officials added that the main Abbottabad-Murree Road and all link roads, including Ayubia Road, had been blocked at different places.

"Almost all the link roads in the valley have been blocked due to snow," Donga Gali police told The Express Tribune.

The rain and snow also interrupted power supply to different parts of Galiyat.

PESCO sources confirmed that power lines had snapped after trees laden with snow fell in the forested areas. However, the official said that their staff were busy locating the line breaks and fixing the fault.

Similarly, the Kaghan valley had between two to three feet of snow on Friday. Babusar Top and other surrounding high altitude areas had received three to four feet of snow. As a result of the snow and land sliding, the Kaghan Road was blocked at different places. The road blockages forced the local administration to ban the entry of tourists to the Kaghan valley.

"Tourists going beyond Kaghan town are at risk as they could get stranded due to land sliding and snowfall," police officials said.

However, the snowfall has only proven to be a magnet, especially for domestic tourists, with social media awash with pictures of people enjoying the snow or of cars slowly snaking up the hillsides.

Motorists heading to Gilgit-Baltistan via Babusar Top had been diverted towards Kohistan, police said.

Apart from Mansehra and Abbottabad, Chattarplane, Bogarmang valleys, Battagram, Torghar and Kohistan also received snowfall. It blocked several link roads in Kohistan, Torghar and Battagram.

The Sharah-e-Kagan was blocked at Sharkool while the Karakoram Highway was also blocked at different places in Kohistan, police confirmed.

Roads blocked in AJK

Roads heading to the Neelum and Leepa valleys in Azad Jammu and Kashmir (AJK), have also been blocked due to ongoing heavy snowfall and rains in the area which continued for a fourth day on Friday.

All linking routes have also been blocked for all kinds of traffic in the area.

According to the Pakistan Meteorological Department (PMD), over six feet snowfall was recorded in Neelum Valley's Keel sector whereas eight to ten feet was observed on hills.

The meteorological department has predicted further snowfall over the hills in Malakand, Hazara, Galyat and Kashmir over the next 12 hours with mostly cold and dry weather expected elsewhere in the region.

WITH ADDITIONAL INPUT FROM APP

Published in The Express Tribune, January 7th, 2017.
COMMENTS
Comments are moderated and generally will be posted if they are on-topic and not abusive.
For more information, please see our Comments FAQ