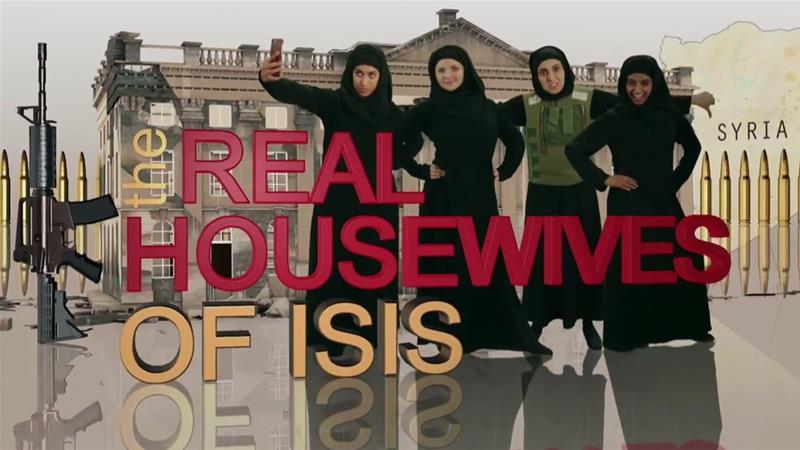 ---
'The real housewives of ISIS', a BBC skit featuring four British Muslim women who have left their homes in the UK to join the Islamic State group in Syria, has stirred controversy online.

The two-minute long clip which is part of a political satire comedy show called 'Revolting,' begins with one of the women undecided about what to wear to a beheading. Another scene shows two of the women angry at each other for wearing the same suicide vest. Posted on BBC's Facebook page, the video attracted praise and controversy for its satirical content with millions of views.

The British want to ban the burqa, poll reveals

"Bad taste, not funny at all," said a commenter, Anna Butcher on Facebook. "I'm sure those who have been affected by ISIS, or [have] been victims of them, or the relatives of those killed in terrorists attacks, won't be laughing?" she added.

A Twitter user wrote, "Constructing an image of Muslim women as oppressed and fond of terrorism at a time of widespread gendered Islamophobia is deeply sinister."

Woman's hijab ripped off by two men in busy London street

https://twitter.com/HarryShotton/status/816677964490428416

"The real housewives of ISIS' comedy that the BBC is going to air just isn't right. You can't make a joke out of it... Cause it's not funny," wrote another Twitter user.


The real housewives of Isis "comedy" that the BBC is going to air just isn't right. You can't make a joke out of it... Cause it's not funny

— Kayleigh (@KayAndrews94) January 4, 2017
@BBC2 'The Real Housewives of Isis': Very funny! thank you for finding humour in such dark times and for being daring.U need to push limits

— 🌎agatdeblues #FBPE 🇪🇺🇫🇷🇺🇸 (@agathejagiella) January 4, 2017


https://twitter.com/UncleMeraj/status/816672501833101312

Muslim sketch creator Faraz Ali described the BBC skit as "poor taste" and running "the risk of making light of the very real and significant problems ISIS leaves in its wake." He said, "For the few documented events where young girls, often under 18, have left the UK, there is no doubt this has been a result of dangerous grooming and misguidance."

"Making light of this situation feels inherently wrong, almost capitalising on the suffering of these young girls who acted without proper insight," he added.

But British Muslim comedian Ali Shahalom was one of the many who found the clip "very funny" and not offensive at all. He wrote in a Facebook post,"The sketch ridicules online grooming and draws attention to an important topic."

Man pushes Muslim woman into oncoming underground train in London

"From what I've seen, it doesn't offend religion. Satire like this highlights the absurdity of those that recruit and get recruited for ISIS," he added. Acknowledging the sensitivity of the topic, Shahalom praised the skit's writers for taking a bold step to address such a serious issue light-heartedly.

However, according to Warwick University academic Sara Salem, instead of showing how "ridiculous" Islamophobic ideas were, the skit ended up reinforcing such stereotypes. "The trouble with this type of humour is that it ignores the broader context in which it will be revived, namely British society," Salem said.

"While it may challenge some people's conceptions of Muslim women by making light of tropes we hear of constantly, for many others it won't serve as anything more than comedy based on things they already believe in and will continue believing in," she said. "Not only is it not a challenge to these stereotypes, it is using them to make light of what is ultimately not a very funny situation."


COMMENTS (1)
Comments are moderated and generally will be posted if they are on-topic and not abusive.
For more information, please see our Comments FAQ