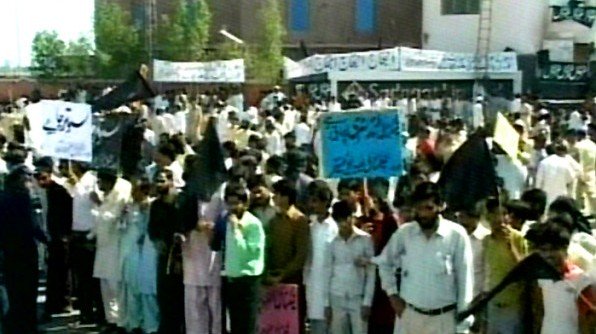 ---
SIALKOT: Hundreds of textile manufacturers and exporters staged a complete strike on Wednesday in protest against what they called was the unchecked exports of cotton yarn.

Sialkot Zonal Chairman of the Pakistan Hosiery Manufacturers Association (PHMA) - North Zone, Dr Khurram Anwar Khawaja, led a protest rally in his city. They demanded a complete ban on exports of yarn so that raw material could be provided to the value added textile industry. A large number of industrialists and factory workers participated in peaceful rallies throughout the country and chanted slogans in support of their demands for the second day in a row.

They were holding placards and banners demanding the government take immediate action to resolve the yarn crisis, otherwise it would be too late and thousands of workers could lose their jobs. Khawaja said that prices of yarn have more than doubled over the last 10 months and the local industry, which is the main consumer of yarn, has been facing severe difficulties.

"A number of industrial units have been closed down due to non-availability of raw material," he said. "Yarn is being exported to those countries which are giving the nation a hard time in the international market," he added. Khawaja said the producers of yarn were selling it at higher rates in the local market compared to export prices. He said the value added textile sector has been demanding a complete ban on exports of yarn so that their products could be exported, workers could be retained and foreign exchange could be earned.

"It is not out of place to mention that the value added textile sector is the largest employer of manpower in Pakistan," he said. He claimed the countrywide strike which included cities like Lahore, Karachi, Faisalabad, Sialkot and Multan was being staged as a last resort because they have been unable to get any resolution to the issue.

Published in the Express Tribune, May 13th, 2010.