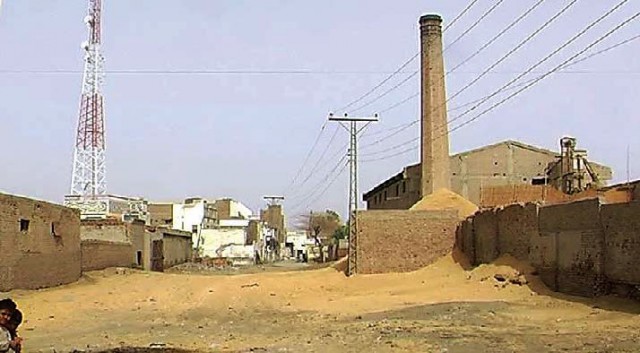 ---
JACOBABAD: Jacobabad is one of Pakistan's largest rice-growing areas but the people of Jacobabad city will tell you that they are paying a price for this benefit.

There are about 15 rice mills in the city with major ones located in Haq Bahoo Maula, Ghousia Colony, Sabayo Garhi Maula. But the problem is that these areas are residential neighbourhoods as well. The dust that is produced when they process the rice rises in the air and tends to coat everything in sight. According to people living near the mills, the dust has given them health problems. "Most of us sleep on our rooftops because of the heat but the dust doesn't let us sleep as we have trouble breathing," said resident Abdul Karim.

"A lot of people have developed asthma," he claimed. Experts have studied the phenomenon. An Indian study, "Occupational exposure to airborne fungi among rice mill workers, with special reference to aflatoxin producing a. flavus strains" was published in 2003 in the Annals of Agriculture Environment Medicine.

It discusses the danger of exposure to grain dusts that can be affected by toxin strains. "A large quantity of dust is generated into the environment of grain processing industries when agricultural commodities are converted into an edible form for human consumption, thus causing a potential health risk to workers due to inhalation of vegetable dusts," explains the study.

The dust harbours micro fungi and other microorganisms that can develop into harmful strains. Pulmonologist Dr Abdul Ghani confirmed to Express News the effect on the residents who are exposed to grain dust. "The residents can develop chronic obstructive pulmonary disease (COPD). Most of them have developed asthma, which is more permanent," he said. When contacted, DDO Revenue Ghulam Abbas said that he would work on solving the issue if and when he received complaints.

"I have not received any complaints yet. But we are aware of the fact that rice mills are functioning in residential areas. We will take action as soon as we receive complaints." In their defence, however, the rice mill owners said the mills existed there before the human settlements. However, the residents claim that they had built their houses before the mills were constructed.

Apart from respiratory problems, a major hazard for the workers and the people living near the rice mills is the noise created by the machines. A noise survey conducted in the workrooms of eight rice mills of north-eastern India said that it surpassed the threshold of 85 decibels (dBA), which can prove to be detrimental to human health.

Published in the Express Tribune, May 13th, 2010.
COMMENTS (1)
Comments are moderated and generally will be posted if they are on-topic and not abusive.
For more information, please see our Comments FAQ