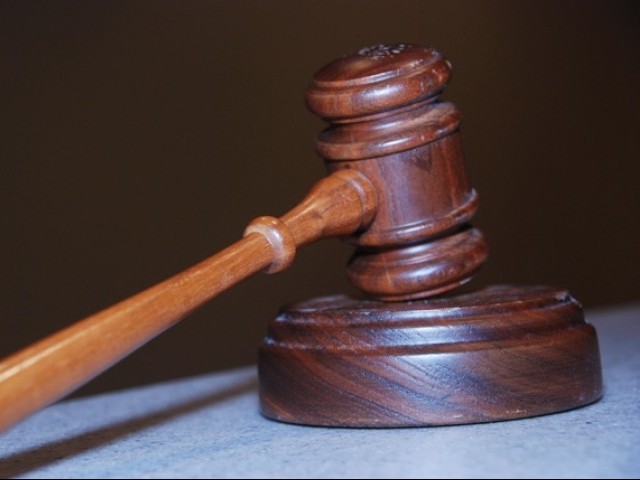 ---
LAHORE: Several unique cases were decided by lower courts in 2016. While some may have been more prominent than others, there is little doubt that lawyers and judges had to dig deep in the rule book to take many of them to their logical conclusion.

Pardon me?

There was a unique case in which an additional district and sessions judge acquitted a man who murdered his daughter in an honour killing. The premise for the acquittal was that the man had the legal standing to pardon himself and others involved. He, therefore, chose to exercise this right.

In October, Faqeer Muhammad recorded his statement before the court of Judge Nadia Ikram Malik. Faqeer forgave himself, his son and his nephew who were involved in the crime.

He said Kiran bibi was his daughter and unmarried at the time of the murder. The father added that the deceased had no legal heirs except he and her mother Bushra Bibi. "I have forgiven the accused in the name of Almighty Allah and have no objection on their acquittal. I also waive my right of Qisas and Diyat."

Faqeer Muhammad, his son Muhammad Illyas and his nephew Muhammad Tahir gunned down Kiran and her friend Ghulam Abbas to "save honour" in 2014.

Initially, complainant Azmat bibi, and her son Waqas Ali, the brother of Ghulam Abbas, recorded their statements before the court and pardoned the accused before waiving their right to Qisas and Diyat. Subsequently, Faqeer Muhammad and Bushra bibi, as the legal heirs of Kiran, followed suit and the accused got off the hook.




To the gallows

However, there was no pardoning for five people who were sentenced to death by an anti-Terrorism court for burning a Christian couple alive in a brick kiln.

The convicts accused the two of committing blasphemy in Kot Radha Kishan, Kasur in 2014. ATC court Judge Muhammad Azam also ordered the convicts to pay Rs300,000 each as compensation to the legal heirs of the couple. In case the condemned defaulted on the payment, they would have to face imprisonment before the execution.

Hafiz Ishtiaq, a religious cleric, Mehdi Khan, Riaz Kambo, Irfan Shakoor and Muhammad Hanif were the individuals sentenced to death.

Perverse pleasure

One of the cases that sent shockwaves across the country involved the sexual abuse of hundreds of children. Judge Chaudhary Muhammad Ilyas sentenced two people accused of the crime to life in prison under sections 377 (Unnatural offences), 293 (Sale of obscene objects to a young person) and 385 (Putting a person in fear of injury in order to commit extortion) of the Pakistan Penal Code. They were also charged under Section 7 of the Anti-Terrorism Act. The convicts were identified as Haseem Amir and Faizan Majeed.

Sentenced to death

An additional district and sessions court handed down two death sentences each to three convicts, including Naveed Iqbal, the step brother of a former Supreme Court judge. The latter, along with some accomplices, killed his parents for the sake of money. The others sentenced to death included Muhammad Ameen and Abbas Shakir. All three were also fined Rs500,000 each.

The convicts had murdered Malik Abdul Hameed, 80, and Zarina bibi, 70. The then police chief, Aslam Tareen, said Iqbal was a rickshaw driver and he killed his father Hameed, a former deputy inspector general of police, and his second wife Zarina Bibi. After killing the couple, he fled with a briefcase filled with Rs0.5 million in cash and took it to Ichhra Market in Lahore to have it unlocked. The locksmith, however, refused.

Wheeling and misdealing

Millions were involved in yet another interesting case involving employees of a private limited company and employees of a private bank. Special Court-1 (Banking) Judge Chaudhary Humayun Imtiaz dismissed the bail petitions of thirteen accused bank employees who allegedly connived with two primary suspects and approved the encashment of 84 cheques with forged signatures. The cheques amounted to over Rs.71 million.

The primary accused, accountant Muhammad Shehzad and cashier Muhammad Shafique of Zoraiz Engineers Private Limited, embezzled more than Rs121 million from the company. Of the total, over Rs71 million was encashed through forged signatures on cheques, while Shehzad and Shaifique did not deposit vouchers worth over Rs51 million. The company records, on the other hand, stated that the vouchers had been submitted.

Overall, the company encashed more than 175 cheques from the private bank and these were sent for verification to a forensic laboratory in Islamabad. It was ultimately determined that's 84 of them had forged signatures. In their bail petition, the accused claimed they were implicated in the case to be humiliated and blackmailed.

18 years on

After 18 years, a murder case, which was indefinitely adjourned due to the mental state of the accused, was going to be reopened. An additional district and sessions judge summoned the Punjab Health Services director general to clarify an ambiguous report In the instant case.

The court noted that the medical report said that the suspect was suffering from paranoid psychosis, but on the other hand found that he was being treated and therefore fit to stand trial.  In May 19, 1998 the case Mushtaq alias Malangi was adjourned sine-die on the grounds that the suspect was mentally unstable.

According to an FIR registered in 1994 against Muhammad Mushtaq alias Malangi at Nolakha police station, the accused stabled Abdur Rasheed to death for verbally abusing him.

Cops on trial

Even the police were subject to accountability at lower courts after a judicial magistrate held 12 officials responsible for staging a fake encounter and killing a man named Mohsin Mushtaq. In his inquiry report, the magistrate suggested that a case be registered against the policemen under Section 302 of the PPC for an extra judicial killing. He believed an inquiry should be conducted as the police cooked up the story of a shootout that took place while trying to recover a kidnapped person.

While the police claimed he was killed in an encounter, Mushtaq's mother told a different story. She said Investigation Cell In Charge Inspector Zulfiqar Ali and other officials illegally detained her and her son Mushtaq at Shahdara police station at the behest of one Umar Butt. The latter was a member of a rival family. She said police then shifted her son to some unidentified location and she spent another four days in the lockup. The mother said she was subjected to trture and later sent to a judicial lockup on the orders of an anti-terrorism court. There, she said told that her son was killed in an encounter.

Published in The Express Tribune, December 30th, 2016.