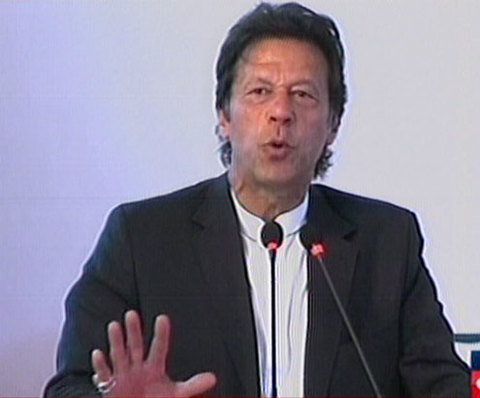 ---
Pakistan Tehreek-e-Insaf (PTI) chairman Imran Khan performed the groundbreaking of charity-based Shaukat Khanum Memorial Cancer Hospital (SKMCH) in Karachi.

Upon its completion, the hospital will be the third of its kind in the country to be established by the cricketer-turned-politician.




"It was not an easy task to arrange Rs700 million for the cancer hospitals and I had never thought that this journey to establish the cancer hospitals would be so difficult," Imran said while addressing a gathering after performing the groundbreaking ceremony.


Chairman @ImranKhanPTI arrived at Karachi Airport.#KarachiKhanKa pic.twitter.com/uxjgyJlTpS

— PTI Karachi Official (@PTI_KHI) December 29, 2016


Nine-year-old Waleed Ahmed from Jamshoro, a pediatric patient, laid down the foundation stone of the project.




Imran lauded and expressed his gratitude to the people of Karachi for generously donating money for the hospital. "The SKMC hospitals are treating 75 per cent of the patients free of cost," he said.

The groundbreaking ceremony of the third SKMCH and Research Centre in Defence Housing Authority (DHA) City was organised by the Shaukat Khanum Memorial Trust. The new hospital will make comprehensive cancer care accessible for low-income patients across Sindh.

Imran Khan to visit Karachi on Dec 29


people are waitng for @ImranKhanPTI at Karachi Airport#IKinKarachi pic.twitter.com/J28aeNIM6X

— PTI Karachi Official (@PTI_KHI) December 29, 2016


Last week, PTI deputy information secretary Naeemul Haq said the party's chairman would also hold party meetings during his two-day visit to Karachi.

On the Panama Papers controversy, Haq said the PTI would accept the decision of the court. He said the party had been looking forward to the 2018 general elections. The PTI has started to formulate a pre-election strategy for contesting on Karachi seats, he added.

The Panama Papers in April this year revealed that Prime Minister Nawaz Sharif's three children were among dozens of powerful people who own offshore companies across international tax havens. The revelations whipped up a storm with political parties calling for the Sharif family to be held accountable.

On November 3, the premier denied holding offshore companies in a written response to the Supreme Court on Panamagate petitions. In his reply, the PM said he had declared all his assets in 2013, hence he was not liable for disqualification under Articles 62 and 63 of the Constitution.
COMMENTS (14)
Comments are moderated and generally will be posted if they are on-topic and not abusive.
For more information, please see our Comments FAQ