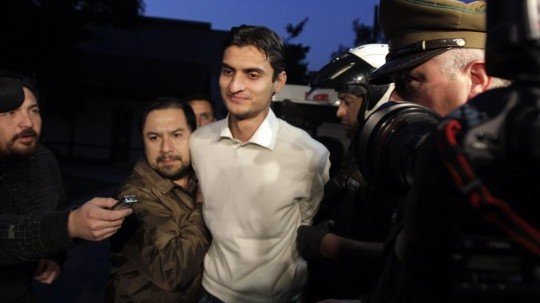 ---
SANTIAGO: Chilean prosecutors on Wednesday, dropped a veil of secrecy over the case of Muhammad Saif-ur-Rehman Khan, a Pakistani citizen who was found with traces of explosives as he visited the US embassy to discuss a revoked visa.

Prosecutor Francisco Jasir issued a special decree that means no information about the police investigation can be released until after the interrogation process is complete or the suspect freed.

Chilean authorities on Tuesday extended the detention of Khan under the South American country's anti-terror laws.

Khan, 28, who has denied any terror ties, can be detained until Saturday without charge.

Experts found traces of a TNT explosive derivative on the young suspect's hands, cell phone, bag and documentation after he went through a security checkpoint on Monday, prompting embassy staff to notify police.

Khan insisted he did not know where the traces came from, and said that he was at the embassy only to renew his visa.

The State Department said in Washington that the embassy called Khan in, after revoking his US visa. It did not say why the visa had been revoked.