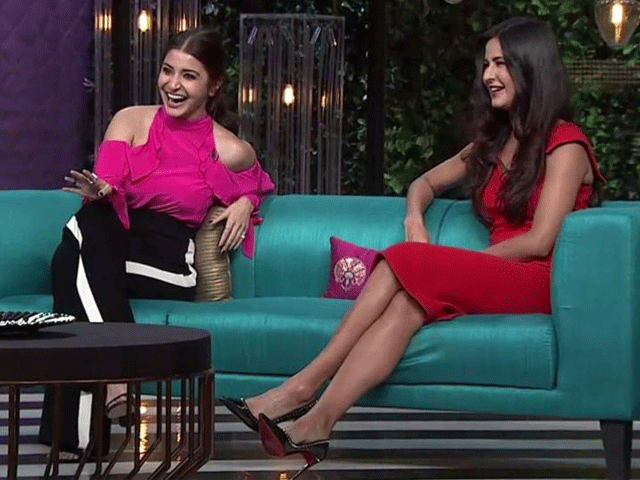 ---
This week, Karan Johar invited two Bollywood divas, Anushka Sharma and Katrina Kaif to his popular chat show Koffee With Karan and as expected,  both actors revealed some mind-boggling Bollywood secrets.

One of the most unforgettable moments from the episode was when Katrina opened up on why she thinks Varun Dhawan and Arjun Kapoor started an 'I Hate Katrina' club.

She suspects it may have started the day she was walking with Salman Khan and he had pulled up Varun Dhawan for 'checking her out.'




10 awkward moments from Salman, Arbaaz and Sohail's Koffee with Karan appearance

"For some reason, Arjun and Varun started an 'I Hate Katrina' club. I am not joking. I was just walking, minding my own business. I know why Varun started the club. I don't know why Arjun joined it," she said.

Then Anushka made us wonder if she was partially deaf. Katrina was asked, "If Salman was a dish, then what would he be?," to which Katrina replied, "It is tricky," which Anushka heard as Chikki.




Karan told Anushka that Arjun used to a have a huge crush on her, which the Sultan star refused to believe. "You can have a crush, Anushka. Like I had a crush on you while making our film Ae Dil Hai Mushkil". Anushka could not believe what she was hearing and said, "What nonsense have you started talking?"

7 memorable moments from Arjun Kapoor, Varun Dhawan's Koffee with Karan episode




Another iconic moment was when Arjun made a surprise entry into the show but he was clearly not welcomed.




In a first, neither Anushka nor Katrina won the much-coveted coffee hamper; Arjun took it home for his sassy comments.




Priyanka Chopra opens up about her experience with racism

https://twitter.com/StarWorldIndia/status/813059473715494912

Have something to add in the story? Share it in the comments below.