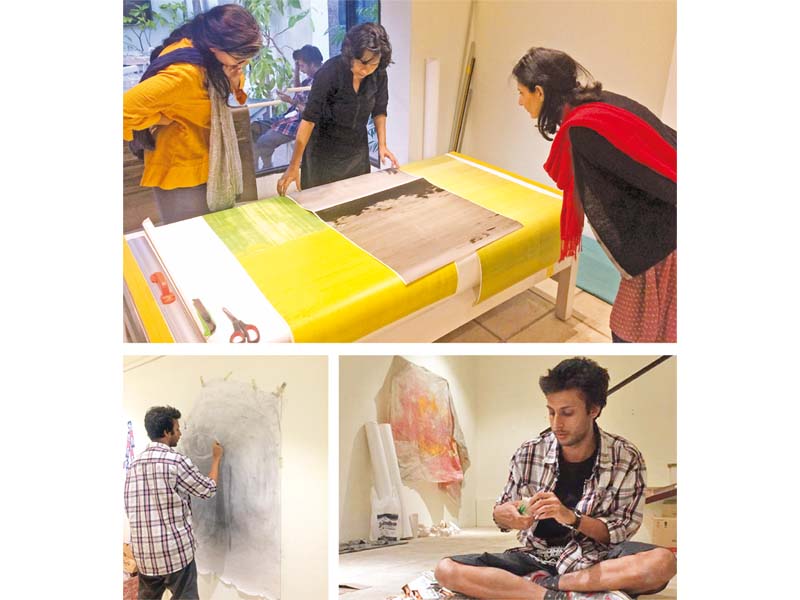 ---
KARACHI: A week ago, Koel Gallery opened its doors to creative minds and dedicated the space to four artists for four weeks as part of a project, titled 'Recorded Time', in which the gallery space is functioning as an open studio.

It is typical for art lovers to see an artist's work only once it is finished. However, they are unaware of what happens behind the closed walls of the artists' studio. Keeping this concept in mind, Sadia Salim, the curator of the event, took up this initiative at the Koel Gallery and asked four artists to create their designs at the gallery.

"I wanted everybody to walk in and see the artists at work," Salim told The Express Tribune, while speaking about the aim of the initiative.

The four artists include Ayessha Quraishi, who according to the Salim, likes to work more in isolation. Quraishi has done some brilliant solos before, said Salim.



Another artist, Sara Pagganwala, who is also part of the project is experimenting with crystals, said Salim.

"I am hoping to create a bunch of crystal sculptures. Currently though, I am only experimenting with the growth of it at the art space," said Pagganwala.

Meanwhile, artist Yasser Vayani works with everyday objects to create installations with multiples that seek to subvert commercialisation in art.

"There are places you find constraints in, but certainly not in here. It's a blessing to have your own wide cube space where you are able to treat it as your own and give your final output in the form artistic installations [that] will create optical illusion," said Vayani, adding that his designs will be more like a processed colouring book.

Further, artist Sarah Hashmi collects data in the form of objects and oral histories from those who experienced the Partition of the Subcontinent and subsequent migration to Pakistan.

"This is a whole new concept for Karachi as it is happening here for the first time in the premises of any gallery," said Koel Gallery owner Noorjehan Bilgrami. "All of us are very excited about this taking place here and Salim has really been a great support system to the young team of artists in here."

The project began on December 13 and culminates on January 12, 2017.

Published in The Express Tribune, December 24th, 2016.
COMMENTS
Comments are moderated and generally will be posted if they are on-topic and not abusive.
For more information, please see our Comments FAQ