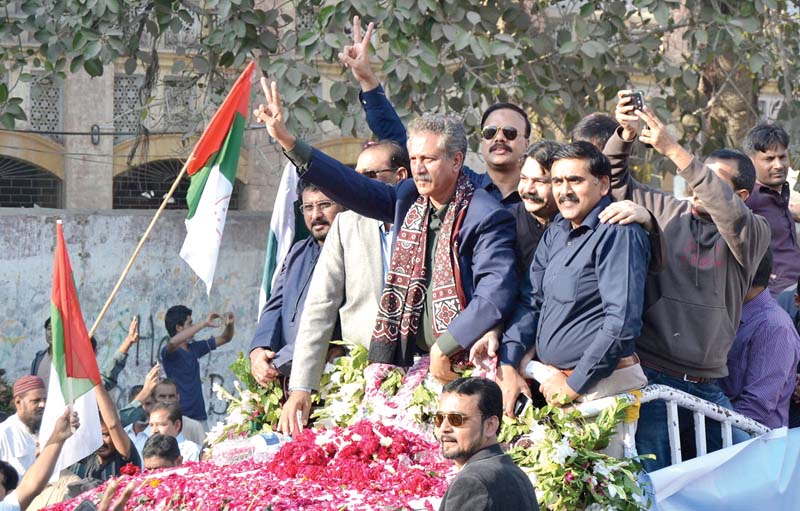 ---
HYDERABAD: For the last seven years the Muttahida Qaumi Movement (MQM) has been grappling with the prickly issue of eliciting authority for local government institutions from the Pakistan Peoples Party-led Sindh government. Although the demand is still being reiterated by MQM-Pakistan's local government representatives, Karachi's mayor believes the path leading to a showdown with the provincial government is too perilous to follow.

"The country is passing through a very difficult [time]. The army is engaged in combating terrorists. In this situation, I don't want to start an agitation or confrontation against the government," said Karachi mayor Wasim Akhtar while responding to queries at a press conference at the Hyderabad Municipal Corproration's Jinnah hall on Wednesday.

Akhtar, like other MQM leaders, has for years described the provincial government as a 'usurper of authority of the LG institutions'. The allocation of funds and separation of garbage disposal, water supply and drainage functions from the LG bodies remain at the core of the contention.




Akhtar, however, said that despite the disagreements, the prevailing circumstances compel him to opt for a negotiated solution to the dispute. "We will first sit down and talk to the provincial government. But it they persist in not listening to us, we have the option of [the] Supreme Court on whose order the [LG] elections were held," he explained.

"If we don't get anything from [the court] we will go to the people who are very much aware of what's happening in the country."

The party has been calling for an amendment in the Sindh Local Government Act, 2013, for devolution of powers from the provincial government to the LG bodies. When asked to explain if the funds or the amendment are his party's priority, the mayor replied that both the issues are being simultaneously pursued. But, he added that they expect that the federal and Sindh governments, while acknowledging the financial needs for Karachi and Hyderabad, will resolve the issue of funds earlier.

Some of the queries asked Akhtar to give a timeline or a deadline of when he or MQM-Pakistan will decide to take the matter to the apex court. "I don't want to give a cut-off date for anything," responded the Karachi Metropolitan Corporation's mayor. However, he later clarified that MQM-Pakistan certainly cannot let the matter drag on till the next general elections.

The mayor, who came to Hyderabad on his first visit since assuming office, was given a warm welcome by supporters as he entered the city. He was brought to the Hyderabd Municipal Corporation office in a rally.

Published in The Express Tribune, December 22nd, 2016.
COMMENTS
Comments are moderated and generally will be posted if they are on-topic and not abusive.
For more information, please see our Comments FAQ