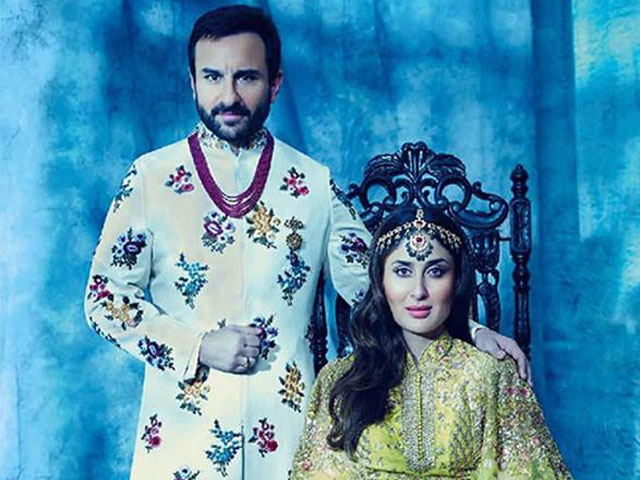 ---
Beloved Bollywood couple Saif and Kareena's little bundle of joy may have just arrived yesterday but the baby boy has already become controversy's favourite child.

Contrary to what many of their fans believed, the actors did not name the baby Saifeena, but Taimur Ali Khan Pataudi, which means Iron in Arabic. The #TaimurAliKhanPataudi has already been trending on top in India yesterday, says Times of India.

However, the choice of name has sparked a variety of responses from fans, some good and others, not so much, reports NDTV.

Kareena Kapoor, Saif Ali Khan blessed with baby boy

A statement released on behalf of the new parents read: "We are very pleased to share with you all the wonderful news about the birth of our son: Taimur Ali Khan Pataudi, on the 20th of December 2016. We would like to thank the media for the understanding and support they have given us over the last nine months, and of course, especially our fans and well wishers for their continued affection. Merry Christmas and a happy new year to you all."

Saif and Kareena's latest shoot captures the royal couple in all their glory

But despite the sweet message, Twitter is fixated on Saif and Kareena's choice of name. Here are some of the tweets:


Taimur been the most barbarian, the most savage murderer, the most dreaded invader in the history of India. regardless of faith, how can...

— हम भारत के लोग (@India_Policy) December 20, 2016
What a name to choose-Taimur-is remembered as a vicious conqueror,who razed ancient cities to ground/put entire populations to the swordRT

— RVAIDYA2000 (@rvaidya2000) December 20, 2016
saif and kareena took nawab status way too seriously and named the kid Taimur. cant wait for next one as Lakshmi bai.

— Singha (@heisenjit) December 20, 2016
Taimur Ali Khan? I'd be so unhappy if he fails to kick democracy out to start his reign.

— aawaRa (@MaskedSRKFan) December 20, 2016
Thanks to Taimur ali khan,ok jaanu is not the worst name ive heard this month anymore.

— Jeet (@jeetofcourse) December 20, 2016


https://twitter.com/Vishj05/status/811086809455153152


Taimur Ali Khan!
And today I witness a new form of chid abuse.#SaifAliKhan & #KareenaKapoor guys you could have Googled a better name.

— Bhaarat Kurda (@TheBhaaratKurda) December 20, 2016


https://twitter.com/Bhai_saheb/status/811100759895015424


Please guys stop mocking the kid.
His parents already took care of that by naming him Taimur Ali Khan.#SaifAliKhan #KareenaKapoor

— Bhaarat Kurda (@TheBhaaratKurda) December 20, 2016
What???? Taimur Ali Khan ???? pic.twitter.com/VrHwHA8z0X

— Rahul Prajapati (@RahulReply) December 20, 2016
Have something to add in the story? Share it in the comments below.