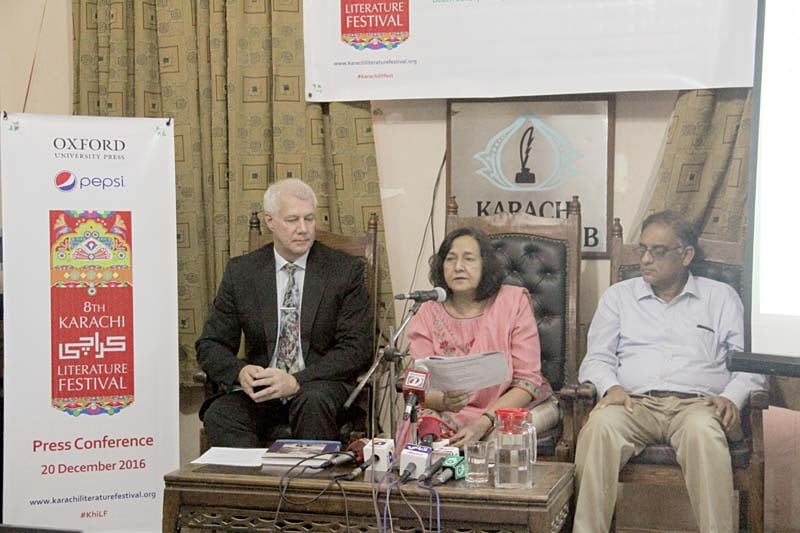 ---
KARACHI: The eighth Karachi Literature Festival (KLF) will be taking place next year, from February 10 to February 12 at the Beach Luxury Hotel. One hundred Pakistani speakers and 30 international speakers are expected to participate in panel talks. As many as 10 countries will be represented at the festival including, speakers from the United Kingdom, United States, Germany, Maldives, France, Italy, India, Switzerland and Bangladesh.

The programme will feature talks, panel discussions, readings, book launches, English and Urdu mushaira, standup comedy, art exhibitions, film screenings and literary awards.




This was disclosed at a press conference at the Karachi Press Club on Tuesday evening.

"The keynote speaker will most certainly be from Pakistan," said Oxford University Press Pakistan managing director and KLF co-founder Ameena Saiyid. There will be a list of notable personalities arriving from India and also a poet from the Maldives, she added.

KLF will also be going to London in May, next year, said Saiyid

In the awards listed this time, the KLF-Pepsi Non-Fiction prize winner will get Rs300,000 and so far six books have been long-listed.

The KLF-Getz Pharma Fiction prize winner will also get Rs300,000 and the winner will be selected by the jury.

The KLF Peace Prize is being sponsored by the German Consulate and the winner will receive an amount of 3,000 Euros.

Speaking on the occasion, German consul-general Rainer Schmiedchen said that in the last one-and-a-half-years that he has spent in Pakistan, he has valued literary sittings the most. Hopefully it will be the nicest experience to see this [festival] happen in Karachi, said Schmiedchen.

At the eighth KLF, another award has been introduced, 'Italy Reads Pakistan Award', in which five novels have been shortlisted. The selected winner's work will be translated and published in the Italian language by Italian publishing house Metropoli d'Asia.

"As the number of visitors to KLF has increased, so has the turnout of book writers and hence the awards are being promoted," said KLF co-founder Asif Aslam Farrukhi. Many good books will get awarded, he said, hoping that this being the 70th year of Pakistan's independence, more thoughts and discussions will be based on it in an objective manner.

Meanwhile, the need to promote a shuttle service towards the venue from Mai Kolachi onwards was highlighted during the question and answer session.

Published in The Express Tribune, December 21st, 2016.