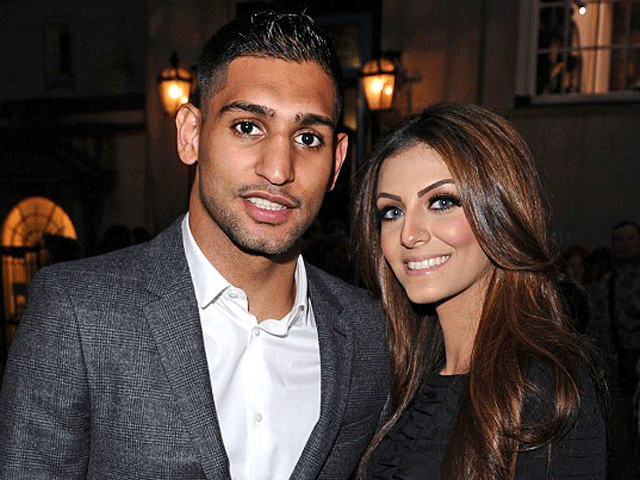 ---
Boxer Amir Khan on Saturday vowed to 'sort out' the family feud tearing his family apart. However in his recent US tour to raise funds for his charity Amir Khan foundation he opened up about the situation and assured everyone that all conflict will soon be at an end.

Speaking at a charity gala in Washington, the boxer told Mail Online,  "Whatever happened, happened. Inshallah one day it will be sorted out. We want to be one family. It will take time but everything will be sorted out."

Boxer Amir Khan's mother opens up on daughter-in-law's abuse allegations

The boxer was accompanied by his wife Faryal and their two-year-old daughter Lamaisah. Faryal tweeted a heartwarming video of Amir and with Lamisah on stage with the caption,"My cuties, helping daddy with his charity "


My cuties @amirkingkhan #AKFoundation helping daddy with his charity ❤️ pic.twitter.com/1bd4ITIsUK

— Faryal Makhdoom (@FaryalxMakhdoom) December 17, 2016


Recently, Faryal took to Snapchat and spoke out against her in-laws and domestic abuse she had been facing after her marriage. Openly speaking out on the matter, we had a tough time believing that there may be trouble in paradise for the couple.

"Don't get your sons married if you're going to abuse and bully the wife," she said in a post. "What about when your sister-in-laws come to hit you when your husband's not home and still you don't raise your hand out of respect for you husband?" she questioned in another post.

Amir Khan breaks silence after wife goes public with family feud

Amir married Faryal three years ago in New York and the two have been continuously updating fans through Instagram and Facebook ever since.

Have something to add to the story? Share it in the comments below.
COMMENTS
Comments are moderated and generally will be posted if they are on-topic and not abusive.
For more information, please see our Comments FAQ