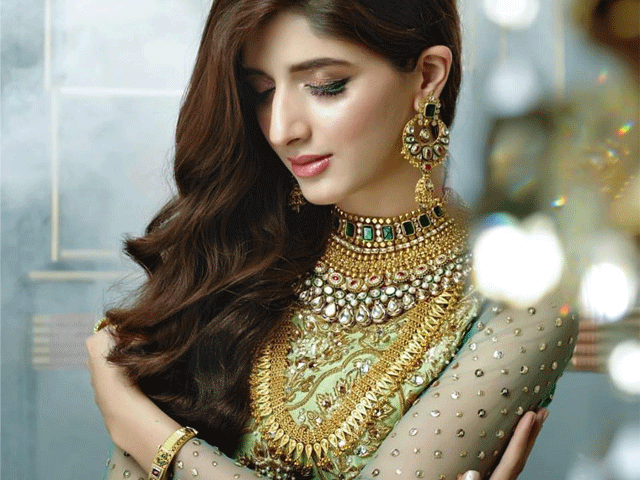 ---
Lahore: Investing in a sparkling statement piece for one of the most significant days of one's life should be luxurious yet worthwhile. The bridal jewels to be coveted for this wedding season range from bright-coloured stones such as rubies, emeralds and aqua marines to precious white and rose gold, which are nowadays optimised to accentuate uniqueness and splendour of bridal jewellery.

Diamonds have retained their charm regardless of trends and years; but what is really interesting is that diamonds are now also set in fusion jewellery to add a glam factor to many wedding silhouettes. From bracelet cuffs to choker neckpieces and cocktail rings, exquisite designs are here to add spunk to any bridal look.

An absolute gem: A glittering display of gemstones

Aside from these precious stones, the trend now seems more inclined towards semi-precious, exotic coloured stones, which add a lot of character to the wedding ensemble and are cost-effective and vibrant. This season, a broad range of multi-purpose jewelry is in vogue.

Most jewellery designers are also returning to the history of the ancient ages and to that of their ancestors. Jewellery in ethnic style has become very popular. Pieces such as chaandbaalis, chokar neckpieces and jhoomars have returned this season. Inspirational designs from the bygone era now see a toned down presence on bridal jewellery that will stay and will be worn on other occasions even after the wedding.




Though traditional jewellery is the preferred choice for brides, the jewellery designers are open to experimenting and providing pieces that are essentially traditional in nature with a distinctive modern twist.

Apart from the heavy sets, one needs to invest in contemporary jewellery that can be worn frequently. "The emphasis is on chokers and jhoomers this season. Keeping in view the international popularity of chokers, I have worked with a variation of chokers, but I was most proud of my Indochine Collection recently showcased at the Élan show," ace jewellery designer Sherezad Rahimtoola, who recently designed jewellery for Urwa Hocane's wedding this week, told Express Tribune.

Six myths about 'the world's most infamous diamond'

"Most of the times women choose fashion over what actually looks good on them. In my opinion, this is not the correct approach. Being a bride is one of the most precious moments in a woman's life and that is why she must choose jewellery that enhances and does justice rather than just following trends," Sherezad added. She also emphasised on the importance of colour contrast. "I prefer not to match the same colours as the bridal dress but rather work with complementing contrast colours. Matching reduces the impact of jewellery, as the jewellery blends into the colours of the jora and does not create a visual impact."




If you do not want to break tradition, bend it. Jewellery designers now try to incorporate the old and the new into bespoke custom-made design for their clients. New York-based jewellery designer Samreen Vance – who recently designed jewellery for Mawra Hocane for Urwa's wedding – stated, "Chokars and long necklaces are trending and embellishing the wedding ceremonies not just in the west but also in India and Pakistan.

Brides can wear such pieces with eastern as well as western ensembles after their wedding. I personally believe the jewellery brides wear on their wedding day acts as an investment that can be later used as a vintage piece for their wardrobe." Mumbai-based jewellery designer Farah Khan Ali also feels the jewellery trends this season are more wearable.

6 must-have songs on your mehndi playlist

"Lots of colour is being added to the bridal trousseau and there is way more experimentation than before. The brides are more confident about what they want and besides Jadau sets, a lot of diamond jewelry is the mood of the moment".




Concurring with Sherezad, Samreen mentioned, "I don't think a jewellery piece has to necessarily match a bridal outfit, but it can complement the trousseau. Even grooms are experimenting with different jewellery pieces such as gold or jadau buttons on sherwanis or a turban brooch." Taking inspiration from the Mughal era, Samreen recreated a very traditional and classic piece for Mawra. For Urwa, she designed paazaib and Hathphool for her wedding day.

4 useful beauty tips for women to follow this bridal season

As much as many brides love to invest in their jewellery, they dread the thought of their precious pieces lying safe in the lockers post wedding. Well, worry not, as jewellery designers now offer a glammed up amalgamation of old with the new. Inspirational designs from the long-gone era now see a toned down presence on bridal jewellery that will stay and will be worn on other occasions after the wedding.




Shazia Deen of Neemar jewellery house believes polki and gold are going to be the rage this season and a lot of brides are opting for jhoomar as well. "I am a big fan of contrast, everything should blend but not match yet every aspect of dressing including the jewellery should stand out individually. This is why we advise brides to select the jewellery first and then order the main dress."

So get your jewellery right for the big day a as nothing speaks louder than a piece of jewellery, which compliments a confident bride on her very special day.

Have something to add to the story? Share it in the comments below.
COMMENTS (3)
Comments are moderated and generally will be posted if they are on-topic and not abusive.
For more information, please see our Comments FAQ