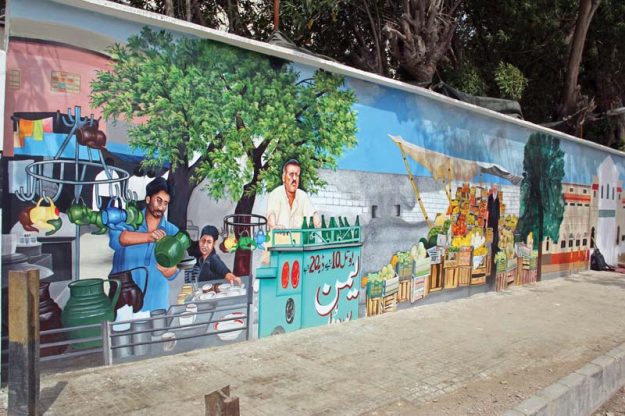 ---
KARACHI: Five Karachi-based storytellers narrated their tales at the I Am Karachi Talks inaugural event at the Institute of Business Administration on Thursday evening. The stories did not portray a rosy picture of their lives. The strength to cope with loss, the effect and aftermath of betrayal, of long gone childhood longings or passions and in one case an attempted suicide, were discussed.

The theme of the event was 'Ordinary to Extraordinary: The Labour of Love'.

Beginning her talk, Zenith Irfan, a biker who has travelled through Pakistan's mountains, spoke about losing her father at the age of 10 months and having no memories of him. She said she was told by her mother that he had a passion to pursue a dream of touring the world on a bike someday. Having heard this, she thought of pursuing his dream and ended up on a journey to pursue her own dream. "This later became not just a ride for my father's legacy but it was meant for Pakistan," she said, adding that her next trip will be in the south of the country.




"I was born in Quetta but I chose to move to Karachi because that's where I heard you can make your dreams come true," said actress and director Zeba Bakhtiar. "In Quetta, a girl is guided into being told what she should not do in the city," she added. Bakhtiar asserted that, as she came from a family of high achievers and she was the youngest child, she wanted to do something notable and different. When the offer for an Indian visit came, which resultantly led to her being cast in the lead role in a Bollywood film, Henna, she said, "It's an unbeaten track and an unknown journey and, since no one has travelled on a barren road, you can't look up for guidance from anywhere, because nobody knows how you'd be able to manage it".

For some, the world of showbiz might seem like a world of beauty, glitz, and glamour but for her it was something to wake up at 4am on a cold November morning in India and wear makeup, she explained. "That surely required resilience." She termed her time in India as 'two fortunate years to learn something new in uncharted waters'.

Musician Shallum Xavier recounted his childhood memories and spoke of how he was immersed in music when other kids were fanatic about cricket. "My family thought I was going crazy playing music at that age. There were many restrictions to bear but my passion remained strong," he said. Xavier recalled the times when he used to practice for four hours and his mother had to literally throw him out of the house.

He even spoke about the time when he first opened up his studio and it was bulldozed by a man who did not believe in his music. Xavier said he could have easily given up but he did not and today has three studios. "Do something you love. Life is meaningless without it," he told participants of the session.

Neurosurgeon Anila Darbar shared her life journey with the crowd, and told them that even her mentor in the US doubted she would ever become a neurosurgeon because it was not a field for females. Her resilience and perseverance paid off in the long run, but she spoke of the chauvinistic attitudes in the field that she had to suffer.

Musician Khaled Anum recounted how he lost his parents at a young age and how he had almost given up on life until he went on a journey of self-discovery and realised that he must 'cherish love from all and never get any kind of hatred from anyone'. He called out to all art practitioners to devise a strategy to deliver arts for the youth, asserting, "It is high time now, we need to come to the rescue of our children by delivering the best art practices to them; we should leave behind a heritage".

Published in The Express Tribune, December 17th, 2016.
COMMENTS
Comments are moderated and generally will be posted if they are on-topic and not abusive.
For more information, please see our Comments FAQ