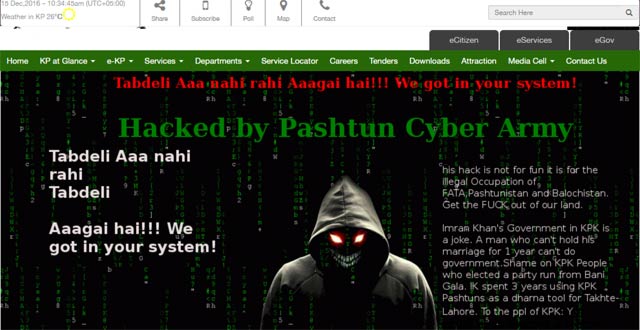 ---
Khyber-Pakhtunkhwa government's website was hacked and defaced on Thursday.

Though it remains unclear as to who hacked the web portal or why, the hackers seem to be quite unhappy with K-P's current government.

K-P Assembly's website hacked, restored




Titled "Tabdeeli Aaa Nahi Rahi Aaagayi hai", the hackers left a message on the website which read, "This hack is not for fun, it is for the illegal occupation of FATA, Pashtunistan and Balochistan, get the **** out of our land.

"Imran Khan's govt in K-P is a joke. A man who can't hold his marriage for one year can't do government." The website remained inaccessible till the filing of this report.




The hackers left another note at the bottom of the page, stating that the credit must not be given to RAW-NDS.

Hacker defaces Zameen.com, leaks database online

Last year, K-P Assembly's website was hacked and defaced. After remaining inaccessible for around half an hour, the website was successfully restored. The hackers claiming to be hailing from Iran defaced the page and scribbled words in Arabic, apparently linking these with the advent of the Islamic month of Muharram.
COMMENTS (3)
Comments are moderated and generally will be posted if they are on-topic and not abusive.
For more information, please see our Comments FAQ