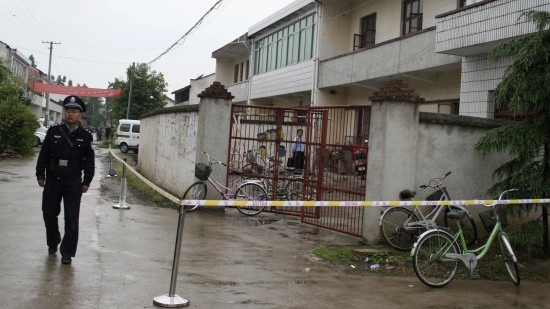 ---
BEIJING: Seven children and a teacher were hacked to death in an attack on a kindergarten in northwest China on Wednesday, the latest in a string of assaults on schools that has stoked public alarm about the government's grip on order.

Eleven children and an adult were wounded in the attack that happened at about eight in the morning, soon after the school day started, in Nanzheng county, a rural corner of Shaanxi province, the official Xinhua news agency reported.

Two children were in serious condition. A 48-year-old man, Wu Huanmin, used a kitchen cleaver to kill five boys, two girls and their teacher, Xinhua said. Wu then returned home and committed suicide, Xinhua said, citing a statement from the province emergency office. "His motive for the attack was not immediately known."

One local man, Zheng Xiulan, said the attacker had rented out the rooms for the privately run kindergarten. "Only about two of the children in the kindergarten were not injured, but I don't know how many died in the end. There was blood everywhere", Zheng told Reuters by telephone. "I don't know why he did it....I hadn't heard that he was mentally ill. He wasn't poor either."

Officials in Nanzheng would not comment on the attack. The rampage is sure to stoke public disquiet and demands for stricter school security after five attacks on school children in recent weeks.

Even before the latest bloodshed, Pesident Hu Jintao and Premier Wen Jiabao had demanded action, the top law-and-order official, Zhou Yongkang, told officials to beef up school security, and police vowed to identify disturbed people who could pose a threat to children.

"Of course, we're scared," said a resident of a village several kilometres from the kindergarten where the latest attack happened. She gave only her surname, Li. "We've all heard about it. I also have grandchildren, but they're already at primary school," Li said by telephone. "But everybody has to wonder why there are people who can do this."

The deaths of children strike an especially deep chord in this country where most urban families are allowed to have only one child, said Yang Dongping, an expert on education at the Beijing Institute of Technology. "I personally feel that media reports about these attacks have helped to create a copy-cat effect", Yang told Reuters. "People who are mentally unstable or who nurse hatred towards society then feel that this is a way of exacting revenge, or of making their demands."

While state media gave terse accounts of the killings, Internet comment reflected anger over the attacks, which have jarred with the government's relentless focus on security.

"If security for the Beijing Olympics and Shanghai Expo can achieve a spotless record, why can't school safety achieve a near spotless one?" said a commentator on the popular Sina.com website. "The safety of leaders is important, but so is protecting the lives of children."

In five school attacks since March, 17 people died -- all but two of them children -- and over 80 were injured. China bans nearly all citizens from owning handguns, and all the attacks involved knives and cleavers.

Yang, the education expert, said the latest attack would drive parents to demand even stricter security. "But it would be unrealistic to mobilise all the police around schools", he said. "The real issues may be how the media report these incidents, as well as the broader social environment."