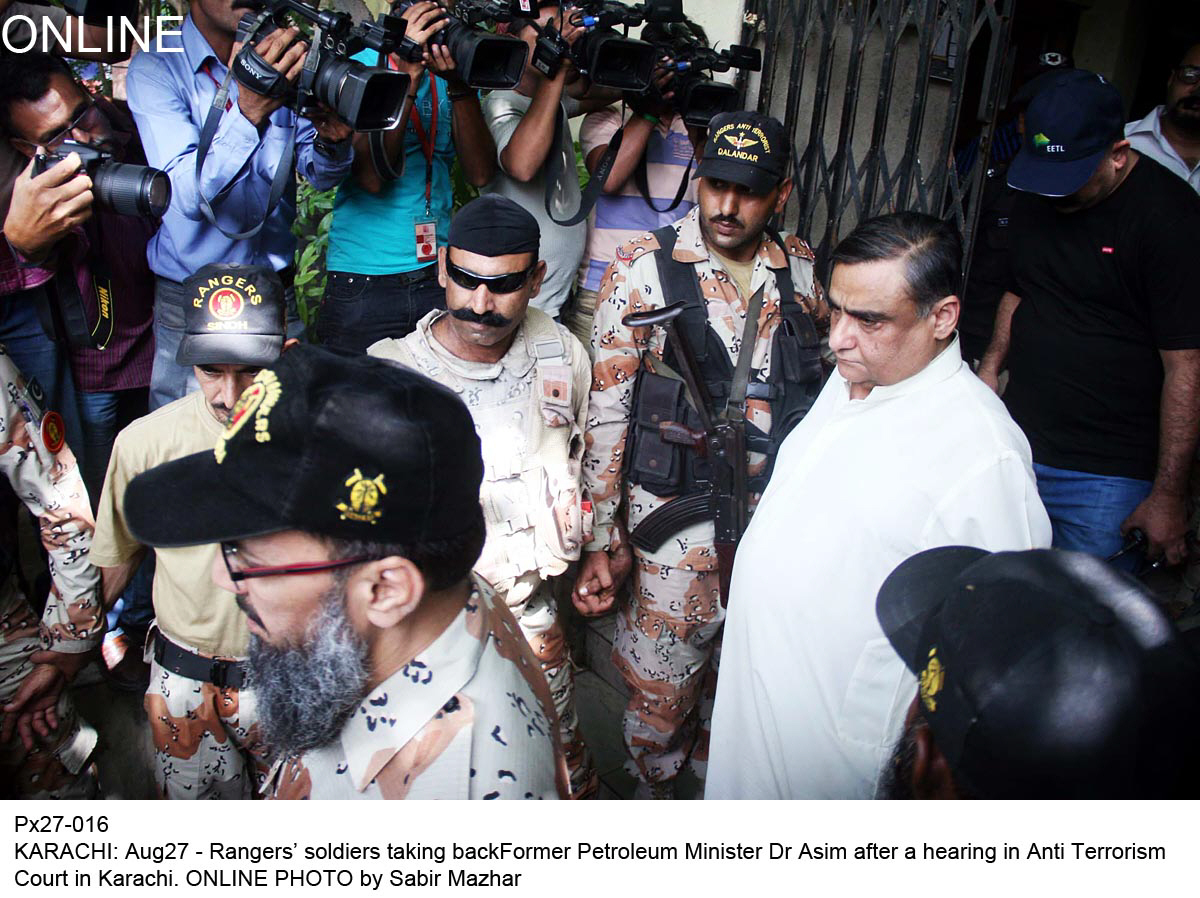 ---
KARACHI: The Sindh High Court (SHC) called on Tuesday a report from the accountability court regarding progress on trial against the former petroleum adviser Dr Asim Hussain in multi-billion rupees corruption scam for allegedly awarding illegal contract of five gas fields in Sindh.

A two-judge bench, headed by Justice Naimatullah Phulpoto, directed the investigation officer to file a progress report by January 17, 2017.

Dr Asim, a close aide of the former president, Asif Ali Zardari, along with retired and serving officers of Sui Southern Gas Company (SSGC) and Oil and Gas Development Company Limited (OGDCL) is facing a Rs17-billion graft reference filed by the national anti-corruption watchdog.

The bureau alleged that the former petroleum adviser and others were involved in multi-billion rupee corruption as they illegally awarded contracts of five gas fields in Sindh to Jamshoro Joint Venture Limited (JJVL).

Besides Dr Asim, SSGC incumbent managing director Khalid Rehman and former SSGC officials Zuhair Siddiqui, Azeem Iqbal, Shoaib Warsi, Yusuf Jamil Ansari and Malik Usman, former OGDCL managing director Basharat Mirza and another official of the company, Zahid Bakhtiar, and JJVL's chief executive officer, Iqbal Z Ahmed, are also nominated in the reference.

They are believed to have fraudulently allowed the JJVL to process gas at Badin, Bobi, Sinjhoro, Naimat Basal and Kunar Pasakhi deep gas fields without conducting an open auction, signing agreements and memoranda of understanding as required by law. Thus, a loss of Rs17.4 billion was inflicted upon the public, alleged the National Accountability Bureau.

When the judges took up the matter on Tuesday, they were informed that Dr Asim's lawyer, Anwar Mansoor Khan, was present in the court in the morning but later left as he was not feeling well.

Published in The Express Tribune, December 14th, 2016.
COMMENTS
Comments are moderated and generally will be posted if they are on-topic and not abusive.
For more information, please see our Comments FAQ