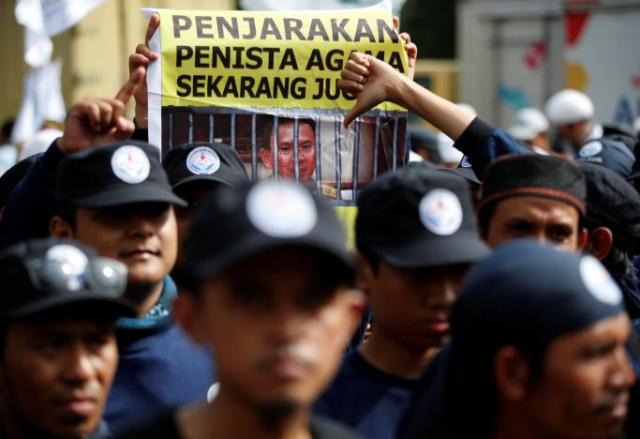 ---
JAKARTA, INDONESIA: Hardline Muslims rallied Tuesday under heavy police guard outside an Indonesian courthouse where Jakarta's Christian governor is standing trial in a high-profile blasphemy case that has gripped national attention.

Basuki Tjahaja Purnama -- the first Christian to govern the capital in more than 50 years -- arrived at court flanked by lawyers and police for the first day of his trial on charges of insulting the Holy Quran.

Indonesia says 'no room' for gay community

The governor bowed to the panel of five judges before being seated alone in the centre of the courtroom as proceedings began.

Purnama, better known by his nickname Ahok, could be jailed for up to five years if found guilty of breaking Indonesia's tough blasphemy laws. He ignited a firestorm of criticism in September when he controversially quoted a Quranic verse while campaigning in elections for the Jakarta governorship.

Purnama apologised but his remarks angered Muslims -- both moderate and conservative -- who marched against the governor in rallies larger than any seen in Indonesia in many years. Purnama told the court he had not intended any insult during a trip to islands off Jakarta when he commented on opponents use of the Quran in political campaigning.

"It is clear what I said in the Thousand Islands was not intended to interpret the (Quran), let alone to insult Islam or the ulema," said Purnama, who was responding after the prosecutor read out the charges. The governor said that his comments were targeted at rival politicians trying to get an unfair advantage in the election by saying that voters should not support a non-Muslim.

Indonesian clerics issue fatwa against forest fires

Purnama, who is running for re-election against two Muslim candidates, described a loving relationship with his adoptive Muslim parents on the remote Bangka island.

"I am very saddened that I have been accused of insulting Islam because this accusation is the same as saying that I am insulting my adoptive parents and siblings."

During the hearing, Purnama sounded typically defiant at times. Quoting from his book "Hiding behind holy verses", he said many in the country's political elite were "cowards" who sought to divide Indonesians to gain power.

Outside the courthouse, dozens of hardline protestors chanted "God is Great" and waved signs depicting Purnama behind bars in prison garb.

"The Quran is our guide. Jail Ahok right away!" they yelled, pumping their fists in the air.

Police guarded the courthouse in heavy numbers, vowing to ensure there was no repeat of the violence seen at some protests against the governor. The blasphemy saga has generated huge interest across Indonesia, with the proceedings being broadcast live on national television. Indonesia is home to 255 million people, roughly 90 per cent of whom follow Islam.

President Joko Widodo has been criticised for failing to prevent attacks on minorities which have eroded Indonesia's reputation for tolerance and diversity.

Purnama, known for his outspoken style, is trying to retain city hall in elections slated for February.

Pakistani to be executed in Indonesia

He was on track to win but has been watching his lead crumble as the blasphemy scandal has dragged on. His two opponents are both Muslims with strong political connections.