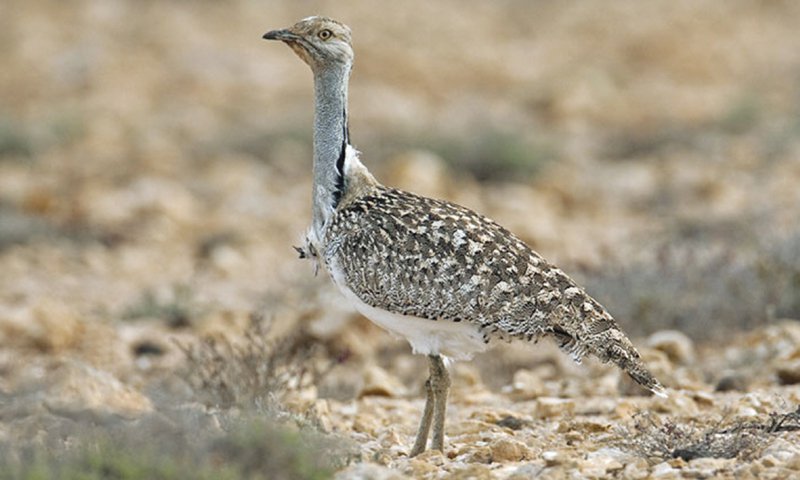 ---
PESHAWAR: Authorities in Khyber-Pakhtunkhwa have imposed a province-wide ban on the hunting of the Houbara bustard, a prized migratory bird that is designated by conservationists as a protected species.

A notification was issued to this effect by the adviser to the Chief Minister on Environment and Forests, Ishtiaq Urmar, on Sunday.

"No one, local or foreigner, will be allowed to violate the law, as hunting of the internationally-protected bird is not allowed under the law in the province," the notification stated.

The K-P government issued the notification reminding hunters of a ban on hunting of Houbara bustard in the province after news channels reported that the federal government had allowed Qatari Royal Prince Sheikh Abdullah bin Ali al Thani to hunt the bird during the hunting season 2016-2017.

The indiscriminate hunting of Houbara bustard has led to an alarming decline in their population. The species was declared vulnerable after its global population dwindled by more than 60 per cent.

Chairman of Pakistan Tehreek-e-Insaf Imran Khan on Sunday through a tweet earlier stated that he would advise the K-P chief minister not to allow anyone to hunt the endangered bird in the province.

"It is a protected bird and hunting them is illegal." The handout also pointed out that in the wake of the 18th Amendment, all provinces had the right to protect their flora and fauna, adding that Houbara bustard had been declared a protected bird internationally and, therefore, its hunting would not be allowed in the province for local or foreign persons.

All violators will be strictly dealt with in accordance with the relevant laws, it said.

Published in The Express Tribune, December 12th, 2016.