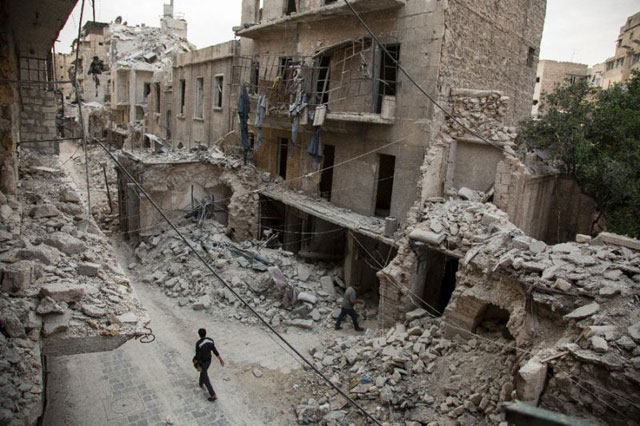 ---
BEIRUT: The fall of Aleppo will be a pivotal moment in Syria's war, boosting regime hopes of regaining control over the entire country and dealing a probable knock-out blow to rebels.

Analysts say the virtually inevitable regime victory in Syria's second city will give the government of President Bashar al-Assad a comfortable upper hand.

"Aleppo is the real turning point of the war. It's the equivalent of Stalingrad," Syria expert Fabrice Balanche said, referring to the Soviet Union's bloody victory in the Russian city that changed the course of World War II.

Syria regime rolls back rebel gains in Aleppo

"Without Aleppo, (Assad) was a half-president," said Balanche, an analyst at the Washington Institute for Near East Policy.

But "with this victory, he can present himself as the president of the whole of Syria".

Rebels seized eastern Aleppo in mid-2012, just over a year after anti-government protests broke out nationwide.

East Aleppo became a powerful symbol of resistance for Syria's opposition, with a local administration that endured years of fierce bombardment and a suffocating government siege that began in July this year.

But when the government launched an all-out assault in mid-November, backed by intense artillery fire, the war-weary eastern districts all but collapsed.

Regime troops and allied militia now control at least 85 percent of the one-time rebel stronghold.

"The myth of a moderate rebellion in Aleppo capable of representing a political and military alternative to the regime -- it's over," Balanche said.

'Break opposition's back'

Yezid Sayigh, a senior associate at the Carnegie Middle East Center in Beirut, told AFP a regime victory in Aleppo would "tip the balance" in its favour.

"We're now past the point where the opposition has any hope of pulling things back," he said.

Recapturing Aleppo holds tremendous political importance for the government, which saw the rival opposition-run authorities in the city's east as a major challenge to its legitimacy. It would also ring the death knell for the armed uprising.

Assad "will have in effect broken the back of the armed opposition... and the idea that the regime can be overcome militarily will be finally put to rest", Sayigh said.

Rebel fire on west Aleppo kills 7 children

After losing Aleppo, rebels will be largely confined to northwest Idlib and scattered pockets in Damascus and Daraa provinces, with little hope for support from their Turkish, Western or Gulf backers.

Kurdish forces will hold parts of northern and northeast Syria, and the Islamic State extremist group will have to defend territory in the north and east.

In turn, Assad's regime will fully control Syria's three main cities -- Aleppo, Damascus and Homs.

It will hold almost all of the country's main population centres, many of its airports and the border with Lebanon.

But analysts say the government will not stop there.

"The end of the rebellion in Aleppo will free up around 30,000 troops to launch new offensives," Balanche said.

'Snowball effect'

One likely target is Eastern Ghouta, a key rebel enclave east of Damascus. Douma, the largest town there, "does not want to meet the same fate as east Aleppo", Balanche said.

The regime may also move to seize Al-Bab, an IS-held town on a key route between Aleppo and the border with Turkey. Turkish forces and their rebel allies have advanced towards the town, but Damascus cannot afford to lose that race.

"It's too close to Aleppo and it would open the way for rebels to head towards Raqa," Balanche said.

Sayigh said the regime may now work on securing the entire western length of the country from the northern border with Turkey to Jordan in the south.

Beyond that there are two possibilities, he said.

"One is (that) the regime turns east and starts pushing towards Raqa to demonstrate its usefulness to the West and Russia as a key partner against Islamic State."

Otherwise it could focus on securing Aleppo, "bottling the opposition up in Idlib province and then chipping away at the edges", Sayigh said.

Joshua Landis, director of the Center of Middle East Studies at the University of Oklahoma, said a victory in Aleppo would "likely have a snowball effect and build regime capabilities and morale".

"Once Syrian militias believe that the rebellion's days are counted, they will likely be more inclined to negotiate ways to surrender that provide protection to their fighters and dependants."