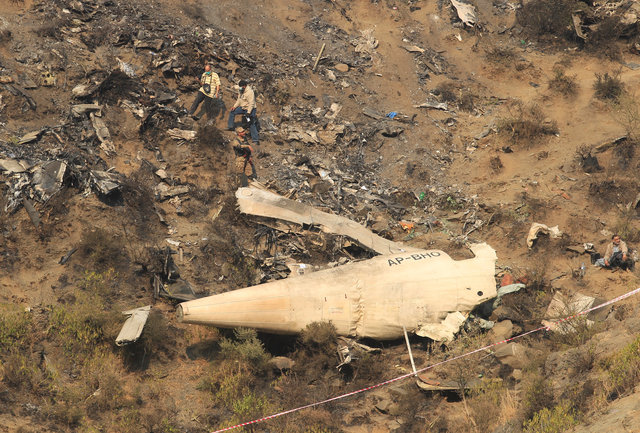 ---
PESHAWAR: Engine trouble is initially believed responsible for Wednesday's deadly plane crash, but many questions remain, including about the airworthiness of the ATR-42 aircraft, stirring new worries about the safety record of the ailing national carrier Pakistan International Airlines.

The plane was en route to Islamabad from Chitral when one of its two turboprop engines failed shortly after take-off, causing it to crash into the mountains of Batolni village of Havelian — 32 nautical miles from Benazir Bhutto International Airport, killing all on board.

PIA PK-661 crash: List of passengers on board

Authorities have said the 'engine failure' will be the focus of official inquiries. An aircraft is thoroughly checked for onward flight at the airport where refuelling takes place, officials say, adding that the aircraft flying to Chitral are checked either at Peshawar or Islamabad airports because the Chitral airport lacks such facilities.

"Although an engineer is always part of a flight under SOPs, if an aircraft develops some technical fault during its journey to Chitral, it can only be rectified at Peshawar or Islamabad because the Chitral airport does not have such expertise," they revealed.

The officials said it takes just 30 minutes to offload and then board passengers, and carry out routine maintenance checks before a plane departs for Chitral airport. "How can these be done in 30 minutes?"

Farhan Shahzad, who travelled to Chitral from Peshawar on flight PK-661 but opted to return by road, said: "The plane's right engine started on the first attempt, but it took three attempts to start its left engine, and that was the moment I thought there was something wrong [with this plane]."

Since Shahzad knew there was something wrong with the aircraft, he refused to travel back on the same aircraft.

"I have a return ticket for December 12, and I am lucky to have landed safely [in Chitral]. And even if the aircraft had landed safely in Islamabad, I'd made up my mind not to take the flight and planned to travel by road," he told The Express Tribune.

According to Civil Aviation Authority (CAA) officials, since the aircraft had been passed over to the care of the air traffic controller at the Islamabad airport by control towers at Chitral and later at Chirat, meaning it had safely crossed the mountainous terrain.

"This clearly suggests [that] things are under control until the aircraft is transferred to the Islamabad's air control tower."

Islamabad-bound PIA aircraft crashes near Abbottabad

They said the issue was being probed and added since the aircraft was refuelled at Peshawar, fuel samples from the airport had been sent to the headquarters in Karachi for laboratory tests.

"No, it was the last flight that was refuelled at the facility, and the same fuel samples have been sent [to Karachi]," a CAA official told The Express Tribune.

The official said people who check an aircraft work professionally without any pressure, adding there are standing SOPs to carry out maintenance and have been circulated to all airports. "Even pilots and engineers get debriefed after landing the aircraft."

He also confirmed that only minor technical faults could be checked and rectified at Chitral. The official revealed that a technical expert at the Peshawar airport is supposed to carry out maintenance checks on aircraft [flight to and from Chitral and even towards Islamabad].

"In his absence, he is replaced by an engineer from Islamabad," adding, "On Wednesday, the technical expert in Peshawar was not available and the engineer from Islamabad was on board PK-661."

Timeline of major air crashes in Pakistan

The official also questioned the late departure of the flight from Chitral. "It had to depart around 3.30pm but took off at around 3.55pm. Why was it delayed?" the official questioned, adding "Yes, it does raise questions."

When contacted the Chitral Airport Manager Obaid-ur-Rehman said there was no fault in the aircraft as the aircraft was completely checked, adding the aircraft was handed over to air control tower in Chirat some nine of ten minutes after the flight took off from Chital. Rehman also stated that offloading, boarding and checking of the aircraft for flight was possible even within 20 minutes.

Published in The Express Tribune, December 9th, 2016.
COMMENTS (3)
Comments are moderated and generally will be posted if they are on-topic and not abusive.
For more information, please see our Comments FAQ