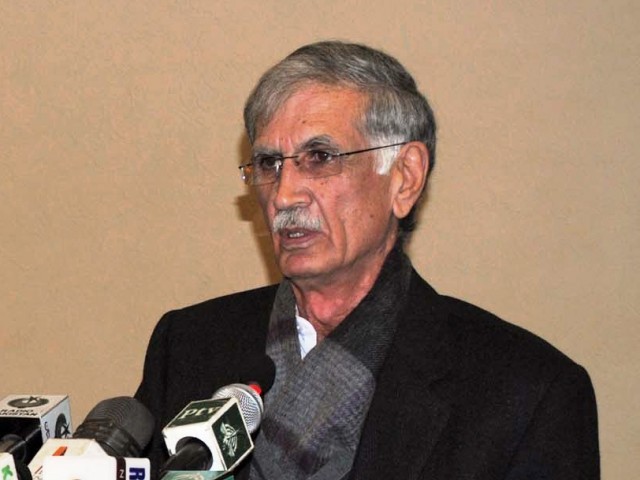 ---
PESHAWAR: The Khyber-Pakhtunkhwa (K-P) government is seeking a loan of Rs70 billion from the World Bank (WB) for developmental projects which are capable of generating revenue.

Provincial government officials held their first meeting with bank officials on Thursday at the K-P House in Islamabad. Sources present in the meeting chaired by K-P Chief Minister Pervaiz Khattak said the provincial planning and development department (P&D) gave a presentation on the projects which are to be financed through the loan.

World Bank to help Pakistan design new tariff policy

The projects include 65 schemes related to tourism, Irrigation, Industries, urban development, mines and minerals, agriculture and energy and power sectors. Insiders say the chief minister wants the ongoing projects to be financed through the loan.

"It was the first meeting with the WB regarding the loan and we are trying to get Rs70 billion. The next meeting will be held in Peshawar and a WB team will hold separate meetings with each sector regarding their projects," said an official while seeking anonymity.

He said the K-P government would approach the Economic Affairs Division (EAD) for approval of the loan as the final decision about the loan is made by the EAD.

"The EAD will check whether the K-P may get the loan or not," the official said adding that the provincial government cannot take a loan directly without the approval of the division.

The projects also include small irrigation dams, roads and housing schemes which will be outsourced to generate revenue. "The WB is giving project-specific or sector-wise loans. The loan will have 5-year grace period. All the projects are revenue generating and will pay back the loan themselves," he added.

Pakistan's prospects of 5% growth rate at risk, says World Bank report

An official of the Energy and Power Department said they have submitted 5 projects including Gorkin Matiltan Hydropower Project, Lawi Hydropower Project, Koto Hydropower Project, Jabori Hydro Power Project and Balakot Hydropower Project.

"We want the Rs70 billion to be given to our department, because our projects are the actual revenue generation projects and their construction cost is high," said the official adding they expect Rs30 billion out of the loan money to be given to the hydropower sector.

Published in The Express Tribune, December 9th, 2016.
COMMENTS (1)
Comments are moderated and generally will be posted if they are on-topic and not abusive.
For more information, please see our Comments FAQ