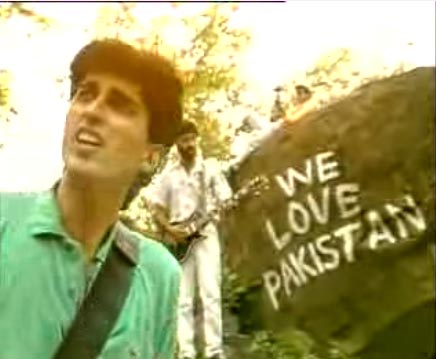 ---
Iconic pop singer-turned-evangelist Junaid Jamshed and his wife were among those onboard PIA flight PK-661 which crashed near Abbottabad on Wednesday.

The aircraft crashed into a hillside after one of its two turboprop engines failed while travelling from Chitral to Islamabad, and burst into flames killing all 47 on board.

Born on September 3, 1964, Junaid shot to stardom in the 1980s as the front man of Vital Signs. The band delivered several chart-topping numbers and became the first Pakistani band to achieve commercial success. In the late 90s, the band members went their separate ways, with Jamshed launching a solo career.

Profile: The enigma that was Junaid Jamshed

From the timeless Dil Dil Pakistan to Us Rah Par, here are some of his classics which epitomise what youth means for many and constitute an integral part of the Pakistani music industry's golden era.

1. Dil Dil Pakistan

Ever since its release in 1987, Dil Dil Pakistan continues to remain popular as an unofficial national anthem.


2. Ye Shaam

Released in 1983, Ye Shaam captivated audiences for decades.


3. Sanwali Saloni

Junaid was among the trailblazers who changed the concept of beauty in our part of the world, creating a song celebrating the beauty of sanwali women.


4. Aitbaar

Aitbaar was released in 1993 and has been remade and reused by several new singers since.


5. Us Rah Par

Us Rah Par was released in 1999 and has left us spellbound since.


6. Woh Kaun Thi

Junaid's light track Woh Kaun Thi will leave you dancing on its jazzy tunes.


8 performances by Amjad Sabri that will leave you spellbound

7. Tumhara Aur Mera Naam

Junaid's popular track Tumhara Aur Mera Naam was released in 1998. It is considered the most romantic Pakistani song to date.


8. Tum Mil Gaye

Junaid's Tum Mil Gaye has been one of the most enthralling number.


9. Aisay Hum Jiye

Junaid paid tribute to the armed forces with his track Aisay Hum Jiye.


10. Aankhon ko Aankhon Ney

The song Ankhon Ko Ankhon Ney is one track that's been on our playlist since years. The song is nothing short of a masterpiece.


Have something to add to the story? Share it in the comments below.