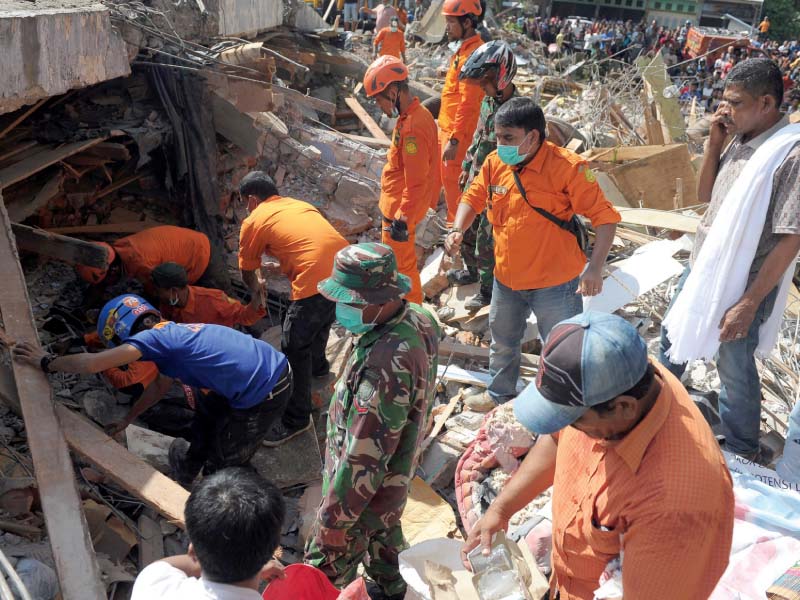 ---
PIDIE JAYA/ MEUREUDU: Nearly 100 people were killed and hundreds more were injured in Indonesia on Wednesday when a strong earthquake hit its Aceh province.

The shallow 6.5-magnitude quake struck Pidie Jaya district in Aceh province at dawn as many in the mainly Muslim region on Sumatra island were preparing for morning prayers.

The death toll steadily climbed as rescuers used earth movers and bare hands to search for survivors in scores of toppled buildings. Medical volunteers, meanwhile, rushed in fading evening light to get people to hospitals, which were straining to cope with the influx of injured.

The Aceh provincial government said in a statement 93 people had died and more than 500 were injured, many seriously.

But Aceh military chief Tatang Sulaiman put the toll higher at 97 and said the number is still climbing. "So far 97 people have been killed and the number keeps growing. When we retrieve bodies sometimes there's five, sometimes 10 corpses," Sulaiman told AFP.

More than 1,000 soldiers and about 900 police have been deployed to the worst-hit areas to set up shelters and evacuation points, he added.

Sutopo Nugroho of Indonesia's national disaster management agency, said a state of emergency had been declared in Aceh, which sits on the northern tip of Sumatra island. "We are now focusing on searching for victims and possible survivors," said Nugroho. His agency put the death toll at 94.

Hundreds of houses and shops had been levelled by the quake, leaving countless people homeless and in need of basic supplies like food and water, officials said. "The electricity is still off. Some places have generators, but there are not many," local disaster agency head Puteh Manaf said. "If it rains there will be disease."

The sole hospital in Pidie Jaya was quickly overwhelmed, with patients treated on the grass out front or sent to neighbouring districts with better facilities. The district health office chief Said Abdullah said nearly 200 injured had arrived since the quake, but many would not enter the hospital for fear of aftershocks. "We are treating people outside. We took the beds out because nobody is daring enter the hospital," he said.

Another regional hospital had suffered serious damage in the quake, along with schools and other key infrastructure, a national disaster agency spokesman said.

In the hard-hit town of Meureudu, terrified residents rushed outside as their homes buckled and crumbled. "Everything was destroyed," said Hasbi Jaya, who pulled his two children unconscious from the rubble of their home. "It was pitch black because the electricity was out. I looked around and all my neighbours' homes were completely flattened."

An AFP correspondent said dazed residents were wandering debris-strewn streets, unable to return to their damaged homes in fear of aftershocks. Some fled to higher ground for fear of a tsunami although no alert was issued.

Indonesian seismologists said the latest earthquake was felt across much of Aceh province, with many aftershocks following the initial tremor. The US Geological Survey upgraded the magnitude to 6.5 from an initial reading of 6.4 and issued a yellow alert for expected fatalities and damage.

Published in The Express Tribune, December 8th, 2016.
COMMENTS
Comments are moderated and generally will be posted if they are on-topic and not abusive.
For more information, please see our Comments FAQ