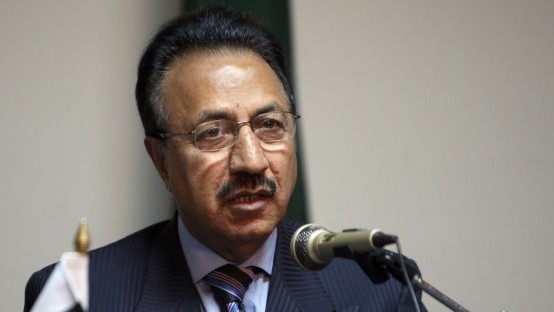 ---
TEHRAN: Pakistan's ambassador to Tehran was injured and taken to hospital on Tuesday when he was attacked by an Afghan national, Iran's foreign ministry spokesman told state-run television.

"The Pakistan ambassador's car has been attacked by an Afghan. The ambassador has been injured and he is in hospital. The Afghan national has been arrested," the spokesman Ramin Mehmanparast was quoted as saying. Foreign Office spokesman, Abdul Basit has also confirmed the attack on ambassador to Iran, Mohammad Bakhsh Abbasi and said he is safe. He also quelled rumors that the ambassador's two guards were killed in the attack, saying that the attacker tried to stab Abbasi, but was stopped by the guards.

However, Tehran police chief said the ambassador was injured in a confrontation. "The ambassador went to a gym several times a week without his bodyguards. This afternoon while he was on his way he had a clash with a 21-year-old Afghan, he was injured on the head and fell," police chief Hossein Sajedi-Nia told ISNA news agency. "Policemen appeared on the scene after phone calls by people and arrested that person," he said. "The ambassador is well now and the detained man is being interrogated."

The ambassador's nephew Jaffar Abbasi, told Express 24/7 that the diplomat was in the hospital sustained minimal injuries. He also confirmed that Abbasi's guards were uninjured. He said there were no further details yet, on the motivation of the attack. Abbasi has been a banker prior to his appointment to this diplomatic assignment. He is believed to be close to President Zardari. In the past he was once tipped to be made Governor of the State Bank.

Published in the Express Tribune, May 12th, 2010.
COMMENTS
Comments are moderated and generally will be posted if they are on-topic and not abusive.
For more information, please see our Comments FAQ