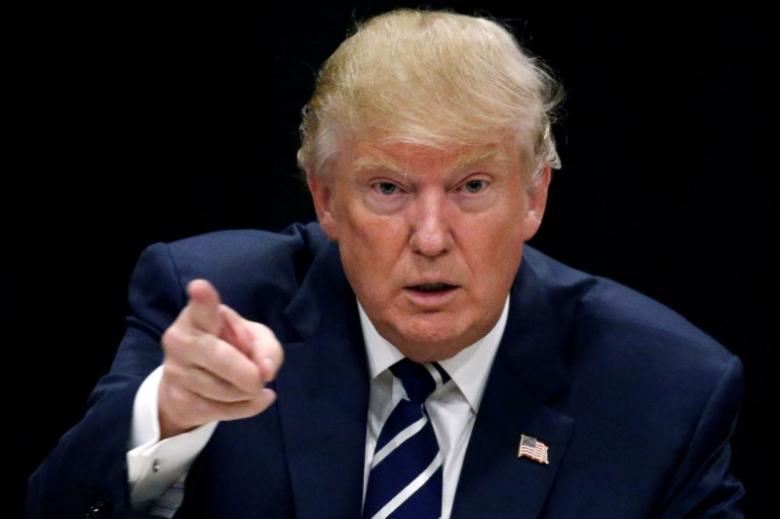 ---
CHICAGO: Her heart skipped a beat in disbelief when Donald J Trump was declared the 45th president of the United States.  Azra Baig, a Muslim-American had all the reasons to be perturbed by the election result. She is one of the many subjected to hate by anti-Muslim groups, who have been emboldened by the incoming president's rhetoric against minorities.

Baig, 44, is a well-respected school board member in suburban South Brunswick, N J  During her re-election bid for the position, she confronted the unthinkable for the first time in the country she calls home. Her campaign yard signs were vandalised.

What Pakistan can expect with Trump in Oval Office

"Someone wrote 'ISIS sympathiser' on the sign," Baig recalls. The next day, she found another sign that was vandalised. Her yard signs were vandalised multiple times that week. "They wrote 'Miss ISIS. Anti-American, Raghead' all over them," she said with a quiver in her voice.

Baig is not the only one who has been targeted by anti-Muslim groups in the country.  In the days following the election, Council on American-Islamic Relations (CAIR), the largest Muslim civil liberties organization in the country, recorded 111 incidents of intimidation, verbal or physical assaults from across the nation against Muslims. The civil liberties organization claims that the torrent of hate stemmed in large part from Trump's divisive electoral campaign.

As a candidate, President-elect Donald Trump has been accused of fueling xenophobia and Islamophobia, using words some people have echoed as validation to carry out hateful crimes against the marginalized in the country.

In the days after the election, a young woman was assaulted and nearly choked at the San Jose State University. Esra Altun, 19, was walking back to her car at San Jose State University when someone grabbed her hijab from behind and pulled it backward, choking her. Altun fought back by leaning forward, and when her attacker let go she fell hard to her knees.

Joining the chorus of denunciations from rights groups across the country, ACLU of Northern California blames the fiery Republican leader's frequent and vitriolic anti-Muslim remarks during the campaign trail for the incident.

"We condemn this behavior, which further adds to the violence that Muslim communities face due to racism and bias," the ACLU said in a statement. "We call on President-elect Trump to do the same," the civil rights group added.

Throughout his campaign, Trump has portrayed Islam as being an inherently violent religion, lumping all Muslims with the violent extremists who make up ISIS. An official at CAIR said that the incoming president's policy proposals — to ban all Muslims from entering the United States or to make all Muslim immigrants register via a database— projects and treats the religious group as a threat to the national security.

"Trump's plans to register Muslims is a reminder of what happened in Germany with the Jews," said CAIR's Texas leader, Mustafa Carroll. "The new administration will fight tooth and nail for this," he added. Carroll, who is actively involved in countering misrepresentations of Islam, also urged the incoming president to apologize for his statements. He also criticized the incoming administration for what he called was the violation of basic rights promised to every American citizen in the Constitution.

"We claim to be the beacon of democracy and if we deny these basic rights at home we will be known as a hypocrite," the Texas-based rights leader said.

According to CAIR's database, incidents of Islamophobia have erupted across the country since the election.  In Los Angeles, California, Mariam Nomair, a 16-year-old Muslim student at El Camino High School, was attacked twice. In one instance, a male student walked up to her and tried to rip her hijab off and called her a terrorist. She claimed, "he grabbed me by my hijab and tried to pull it off." She continued, "He said, "You shouldn't be wearing that, you towelhead. You're not American. This isn't America. This isn't what America stands for."

In another incident reported by CAIR, Fariha Nizam, a 19-year-old college student from Bellerose, Queens, was yelled at by a white, middle-aged couple to take off her hijab on the bus. The woman was screaming "She has to take it off." She started grabbing Nizam's head and tried to pull her scarf off.

Police across the country are investigating the deluge of alleged hate crimes against Muslims, Hispanic Americans, African-Americans, and members of the Jewish community in the wake of the US election. Attackers professing support for the Republican leader have been accused of numerous attacks following his shock victory, including death threats and racist graffiti.

In another incident that shook the Muslim community, copies of the Holy Quran were defaced at the Evanston Public Library last week.  The incident surfaced during a program titled "Is the Quran a 'good' book?" that was held in partnership with Northwestern University's Middle East and North African Studies Program (MENA) at the library.  This is the most recent case that took place in the context of a spate of racially inflicted violence and intimidation against Muslims in the country.

Professor Brian T. Edwards, who heads the MENA Program at the university, was quick to denounce the incident.  "As residents of Evanston and Chicago we are committed to the safety and protection of our Muslim families, friends, and neighbors," said Edwards, who has also authored a book on Islam.

In California, CAIR reported that a group calling itself "Americans for a Better Way" has mailed copies of a letter to at least five mosques, calling Muslims "a vile and filthy people" and advocating genocide.

The letters also warn the community that President-elect Donald Trump is "going to cleanse America and make it shine again. And, he's going to start with Muslims." "He's going to do to you Muslims what Hitler did to the Jews," the letters states.

Would love to visit 'fantastic' Pakistan, says Trump

In response, CAIR, has written a letter to the FBI director, urging the federal agency to investigate the case. As the inauguration day inches' closer, Muslims in America, like other minorities have expressed a range of emotions from fear to sadness in response to the president-elect's picks for key cabinet positions.

Critics also say Trump's proposals to ban Muslims, deport undocumented immigrants, and build a wall along the border with Mexico are also laying the groundwork for eroding America's image more broadly.

Dr. Khalil Shikaki, a prominent political scientist and professor at the Brandeis University, said that the anti-Muslim sentiment at home damages America's image abroad.  "This kind of attitude toward the community gives groups like ISIS a chance to enhance their recruitments by showing how Muslims are being mistreated in America," said Shikaki.

Unfortunately, despite the rising fear that grips and divides the society, there has been little action from the Trump camp. The President-elect said he was saddened to hear about vitriol hurled by some of his supporters against minorities. "If it helps, I will say this, and I will say right to the cameras: Stop it," Trump said in a terse statement on CBS' "60 Minutes."

Expressing his reservations, Kalman Resnick, a Jewish-American progressive activist, who leads efforts to oppose Islamophobia, anti-Semitism and racism in society said, "I fear that since Trump cannot possibly deliver on his false economic promises to white middle class and working class voters, his only way of maintaining his support among such voters will be to scapegoat Muslim Americans, immigrants and people of color.

But for Azra Baig, who is also the mother of two young daughters and many like her who have been a victim of hateful harassment or intimidation, the biggest fear is living in an environment that is dominated by intolerance.

"Whatever is happening is very un-American – I worry for my daughters who are growing up in this environment," she said with a tremor in her voice. "This is not the America I've known," she added following a brief pause.

Published in The Express Tribune, December 7th, 2016.
COMMENTS (2)
Comments are moderated and generally will be posted if they are on-topic and not abusive.
For more information, please see our Comments FAQ