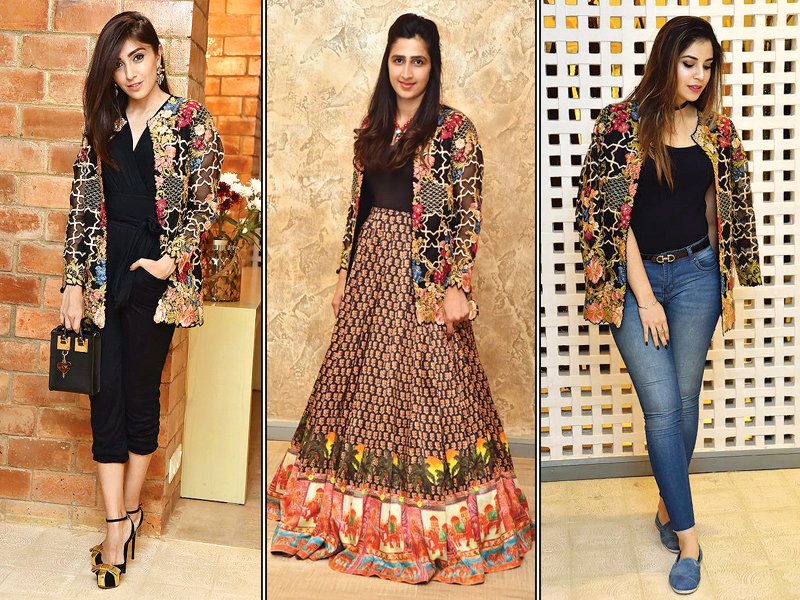 ---
While trends fade, style remains eternal and one piece can be put together in many different ways. In this feature we have three fashionistas showing us how to put together an item from a designers collection, according to their own individual style and taste!


This black jacket from the designer's hit collection 'Palace Walk' has a cream coloured geometric pattern adorned with Tena Durrani's signature, vibrant, floral embroidery. This is the perfect statement piece that can be dressed up or down to suit any occasion!

Aisha Gul




Teacher, Karachi American School

I prefer to keep it understated and simple, even formally. Because the jacket has a lot of detailing, I wanted to pair it with something simple, therefore I opted for a solid black jumpsuit. For my make-up I went for a classic night-time look with smoky eyes and pale pink lipstick. I accessorised with 'Pleasure Me' earrings from Outhouse Jewellery and a midi ring. I then wore the 'Albion Nano' bag by Sophie Hulme and festive suede and metallic pumps by Charlotte Olympia. I would wear this outfit to a formal dinner.

Fizza Furqan




Assistant Editor/Features Writer, OK! Pakistan

My style varies from minimalistic to feminine. I like to keep it simple and classy but add a quirky detail in my outfit. To style the Tena Durrani jacket, I wore a black tank top tucked into mid-blue, faded, skinny jeans. I liked how it matched the blue embroidery in the jacket. I then wore the jacket over my shoulders and paired it with denim slip-on sneakers. Since the jacket already has a lot of colour, I went for a subtle look for my make-up — a dewy glow, light eye make-up, and a pop of colour on the lips to brighten up my face. I would wear this to anything from a formal dinner to fashion week.

Samia Akram 




Owner, Soma International 

I would describe my style as classic and modern. I went for a traditional look with the vibrant Tena Durrani jacket. I loved how well it went with my silk lehnga, which also incorporated a similar palette of bright colours. I did my hair and make-up myself, and chose not to carry a bag or wear jewellery, as the outfit itself makes quite the statement. For shoes, I opted for a colourful pair of khussay from Soma International. I would wear this outfit to anything from a dholki to a mehndi. I think it's a great option for any wedding event as it's so versatile and easy to wear, but still makes a statement.
COMMENTS
Comments are moderated and generally will be posted if they are on-topic and not abusive.
For more information, please see our Comments FAQ