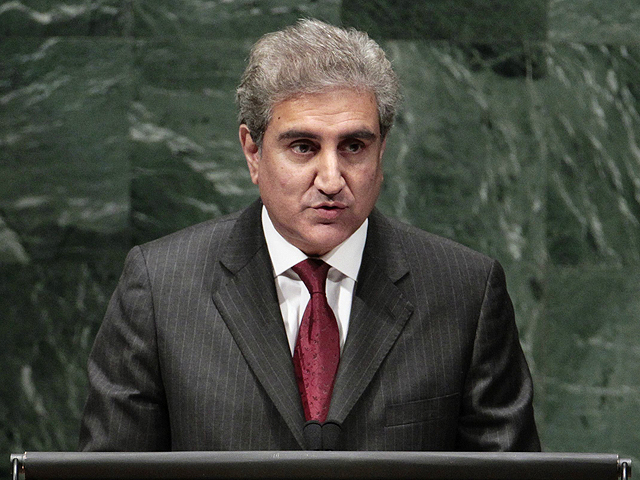 ---
ISLAMABAD: Indian Foreign Minister SM Krishna confirmed on Tuesday that he would visit Islamabad on July 15, in an effort to improve ties between Pakistan and India.

During a phone call between the foreign ministers of Pakistan and India, Shah Mahmood Qureshi invited his Indian counterpart Krishna to Islamabad on July 15. "Let us hope these talks will be helpful in bringing our two countries closer together, bringing cordiality that all of us desire," Krishna told reporters in New Delhi. "Let us hope that our efforts will be fruitful." Addressing journalists in Islamabad after the conversation, Qureshi said his talk with Krishna was "very good," but cautioned that progress would be slow.

"We were both of the opinion that great responsibility has been given to us to carry forward the process, to bridge the trust deficit and create an enabling environment to carry forward the process," Qureshi said. "I think we've had a good discussion and we will build it from here... recognising the fact that it isn't going to be easy, recognising the fact that there are no quick fixes," he said. Qureshi also said the home ministers of India and Pakistan would meet on the sidelines of a regional conference in Islamabad on June 26, and that he planned to visit New Delhi for a following round of talks after the July meeting.

Qureshi said that water issues, including the Kishen Ganga Project, were a serious problem that would be brought up with India. He stressed that Pakistan would not back down from its 'principled stance' on the issues under discussion. The foreign minister said that the Mumbai attacks had impeded the peace process, and stressed that acts of terror should not be allowed to hamper relations between India and Pakistan. Experts say the foreign minister meeting will essentially be "talks about talks", or discussions about how to reopen the stalled dialogue.

Since the Mumbai attacks, India has repeatedly rebuffed calls for a resumption of the peace process, insisting that Islamabad had not done enough to bring the Mumbai attack masterminds to justice. In February, the two sides managed a meeting between their senior foreign ministry officials, which resulted in a vague pledge to keep the doors to dialogue open. The meeting between Indian PM Manmohan Singh and Prime Minister Yousaf Raza Gilani moved the process forward in April, as the foreign ministers of both countries were asked to formulate a plan for the step in the dialogue process.

The US had also encouraged Pakistan and India to better their ties. On Tuesday in Mumbai, US Ambassador to India Timothy J Roemer said India and Pakistan need to talk to each other to ensure peace and prosperity in the region.

Published in the Express Tribune, May 12th, 2010.