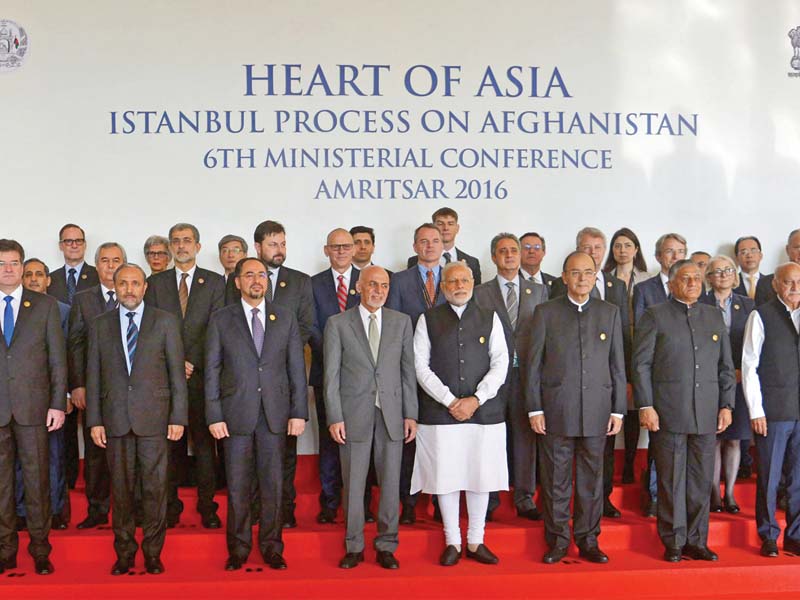 ---
AMRITSAR: As India and Afghanistan joined hands at the Heart of Asia conference to huff and puff at Pakistan over terrorism, Russia said the multilateral forum should not have been used for scoring brownie points.

Jointly inaugurating the sixth session of the Ministerial Conference with Afghan President Ashraf Ghani, Indian Prime Minister Narendra Modi heaped scorn at Islamabad for its "inaction against terrorism in the region".

In his thinly veiled reference to Pakistan, Modi said silence and inaction against terrorism in Afghanistan and the region would only embolden terrorists and their masters. "We must demonstrate strong collective will to defeat terror networks that cause bloodshed and spread fear," he added.

Sartaj Aziz arrives in India to attend Heart of Asia Conference

The Indian leader said his country was committed to 'durable peace' in Afghanistan, and announced plans to connect India and Afghanistan via an air link, as well as discussed the possibility of trilateral cooperation over Iran's Chabahar port.

"India-Afghanistan-Iran cooperation on the Chabahar port will help Afghanistan to connect its economy to the rest of the world," Modi said.




Though during his meeting with Foreign Affairs Adviser Sartaj Aziz before the conference, Ghani was all praise for Pakistan's efforts in the fight against terrorism, the Afghan president too used the forum to lash out at Islamabad for the 'spread of terrorism'.

"We need to identify cross-border terrorism and a fund to combat terrorism," Ghani said adding that the $500 million Pakistan has pledged for Afghanistan's development could be used to 'contain extremism'.

"This fund Mr Aziz could very well be used to contain extremists because without peace any amount of assistance will not meet the needs of our people," he said at the meet.

"Afghanistan suffered the highest number of casualties last year. This is unacceptable... Some still provide sanctuary for terrorists. As a Taliban figure said recently, if they had no sanctuary in Pakistan, they wouldn't last a month," the Afghan president thundered.

"I don't want a blame game, I want clarifications on what is being done to prevent the export of terror," Ghani said. "About 30 terrorist groups, as named by the UN, are trying to establish a base in Afghanistan," he stated.

The Afghan president appreciated India's support to Afghanistan, which he said comes 'with no strings attached'. "The relationship is based on shared values and beliefs," he said.

Ghani's tirade drew a strong reaction from the Pakistani side and Sartaj responded to the comment saying Kabul should avoid levelling 'false and baseless allegations' against Pakistan.  He hit back at Ghani saying it was 'simplistic' to blame one country. "The security situation in Afghanistan is very complex. It is simplistic to blame only one country for the recent upsurge in violence. We need to have an objective and holistic view."

Aziz said Islamabad was ready to extend every kind of cooperation for lasting peace in Afghanistan. Peace talks between Kabul and the Taliban had not produced positive results, he said, adding that Pakistan was making a serious effort to facilitate peace talks through the Quadrilateral Coordination Group (QCG).

He urged all QCG members to continue their efforts for talks between the Afghan government and the Taliban. "In our view, there is no military solution to the Afghan conflict and all our efforts should be to achieve a politically negotiated settlement through an Afghan-led and Afghan-owned process," he said. "Pakistan is against all forms and manifestations of terrorism and a regional and collective approach is required to overcome this menace," Aziz said. Aziz also apprised conference of the steps being taken in Pakistan under the National Action Plan. "We are now sharing our experiences of counter terrorism with the rest of the world," he said, adding that it was in Pakistan's national interest to protect its own security.

Sartaj asserted that attending the moot despite ceasefire violations along the Line of Control and Working Boundary was testimony to Pakistan's "unflinching commitment for lasting peace in Afghanistan".

Aziz-Modi handshake sets off media frenzy

He also raised the issue of cancellation of the Saarc summit in Islamabad that was due to take place in November.

Speaking on the sidelines of the conference, Russia stated that the multilateral forum should be used for reconstruction of the war-torn country and not to take a jibe at other countries. Russia's special envoy Zamir Kabulov said bilateral issues should not cloud forums like the Heart of Asia. All major players, including India, must extend all possible support to Afghanistan in its transition, he added.

In response to a question regarding the recent joint military exercises of Pakistani and Russian troops, Kabulov said India has close cooperation with the US and it should not complain about much lower level of cooperation with Pakistan.

Sartaj Aziz also met Chinese Foreign Minister Kong Xuanyou on sidelines of the conference. Kong appreciated Pakistan's participation in the conference despite the ceasefire violations along LoC and Working Boundary. Sartaj also met with Iranian Foreign Minister Javad Zarif, Turkmenistan Foreign Minister Rashid Meredov.

The Turkmen minister appreciated Pakistan becoming part of Lapis Lazuli Corridor. He also updated Aziz on the status of TAPI pipeline project.  (With additional input from Agencies)

Published in The Express Tribune, December 5th, 2016.