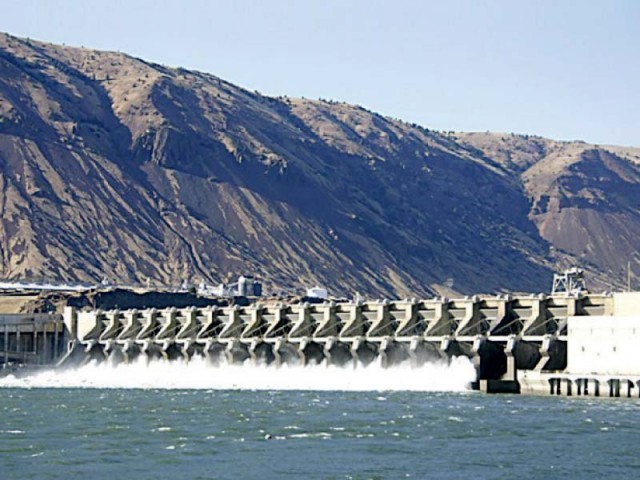 ---
MANSEHRA: Owners of the land on which the Suki Kinari Hydro Power Project (SKHPP) is due to be built, have threatened to block construction work unless their demands are met.

A delegation of landowners led by members of the district council including Mian Altaf, Mian Abdul Majid and Muhammad Farooq, had called on the Federal Minister for Religious Affairs Sardar Muhammad Yusuf at his home in Mansehra on Sunday and presented him a 14-point charter of demands.




Sharing details of their demands, the landowners said they should be paid based on the time they had spent there rather than based on land records since some of them have been living there for over 100 years.

Further, they demanded that compensation for their land and trees should be along the pattern of Dasu and Diamer-Bhasha dam. A residential colony for the affected families should be built while a fully equipped, state-of-the-art health facility and colleges for boys and girls in Kaghan valley should also be constructed. The landowners also demanded a share of royalty from the SKHPP for residents of Balakot Tehsil, giving preference to residents of Balakot for jobs in the SKHPP. They also demanded uninterrupted power supply for Balakot with certain rebate on monthly bills.

Unless these demands were met, the delegates threatened to protest and block construction work on the project.

Earlier, the inauguration of the project in Kaghan Valley had reportedly been put off owing to fear of protest by the land owners. Prime Minister Nawaz Sharif was supposed to have visited the area on November 18 and launched the project.

Yusuf, who had been tasked by Prime Minister Nawaz Sharif to negotiate with the landowners before the inauguration of project, told the landowners that their charter of demands were justifiable. He promised to take up the matter with the premier and other authorities concerned for an amicable resolution of the matter.

The minister then contacted Hazara commissioner and the construction company and sought their input on the matter.

According to SKHHP's design, the project is being built on 4,418 kanals of land. It would be fed by melting snow on the Kunhar River in the Kaghan Valley.

The project is expected to generate 870 megawatts of power. The study for the project had been carried out by renowned international consultants such as Chas T. Main, Montreal Engineering Company Limited, NESPAK and GTZ from 1960 to 2005 when the government advertised for development in the private sector.

The feasibility study for the project was finally conducted through Mott MacDonald Ltd.

The SKHPP has also been listed among China-Pakistan Economic Corridor projects, and is scheduled to be completed by August 2020.

Published in The Express Tribune, December 5th, 2016.