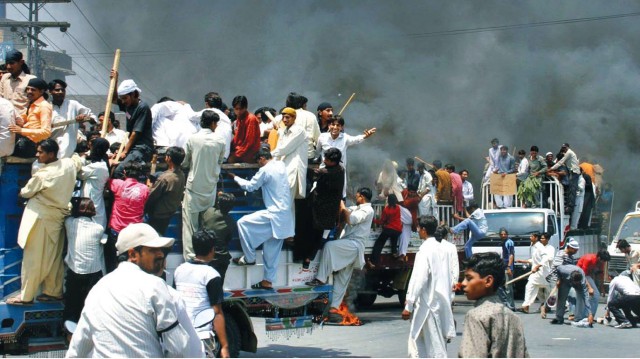 ---
KARACHI: The textile sector on Tuesday halted work and staged protests across the country against nonavailability of yarn and high prices and vowed to continue protests until the government bans yarn exports.

Major protests were held in Multan, Faisalabad and Karachi where thousands of textile workers came on streets, blocking roads and burning tyres. "We will continue to stage strikes and protests against the rise in prices of yarn," said Jawed Bilwani, Chairman Pakistan Apparel Forum (PAF), an umbrella organisation of over a dozen value added textile associations. "We will take out more rallies if the government fails to ban yarn exports," he added.

When asked whether the factory owners closed their mills, he said some 60 per cent industries were closed while many resumed operations late in the evening. Replying to another question, Bilwani said "it is not true that value added textile exports have increased over the last nine months during the yarn crisis." Fabric exports have declined 16 per cent, readymade garments exports fell 8 per cent and knitwear garments exports dropped 8 per cent during this period, he said. "We have no vested interest.

We cannot bring such a huge number of labourers on streets. They came out because they were laid off during this yarn crisis," he said. SITE Association of Trade and Industry Chairman Saleem Parekh said that they supported the strike because they have a large number of members from the value added textile sector. "We want a ban on yarn exports immediately because yarn is not available in the local market. Our industries are in problem as their orders get late and they lose business to China and India," he added.

Federal B Area Association of Trade and Industry's (FBATI) former chairman Idrees Gigi said the association supported the strike on Tuesday. The reasons were pretty obvious, which were the rise in yarn prices and its shortage, which have made it impossible to continue business, he said. "The textile industry is the backbone of our economy.

Industries are continuously closing down, unemployment is increasing and the government is indifferent," he said. Yarn prices have doubled in the past nine months. It is currently being sold in the range of Rs13,000 to Rs20,000 per 46kg bag depending on quality. According to media reports, more than 60,000 power looms and textile value added units remained closed as workers and owners observed a strike.

Labourers organised a rally in Multan and established a hunger strike camp to press the government to accept their demands. In Karachi, textile leaders asked workers to gather at roundabouts in industrial areas and at associations' offices to stage peaceful protests.

Published in the Express Tribune, May 12th, 2010.