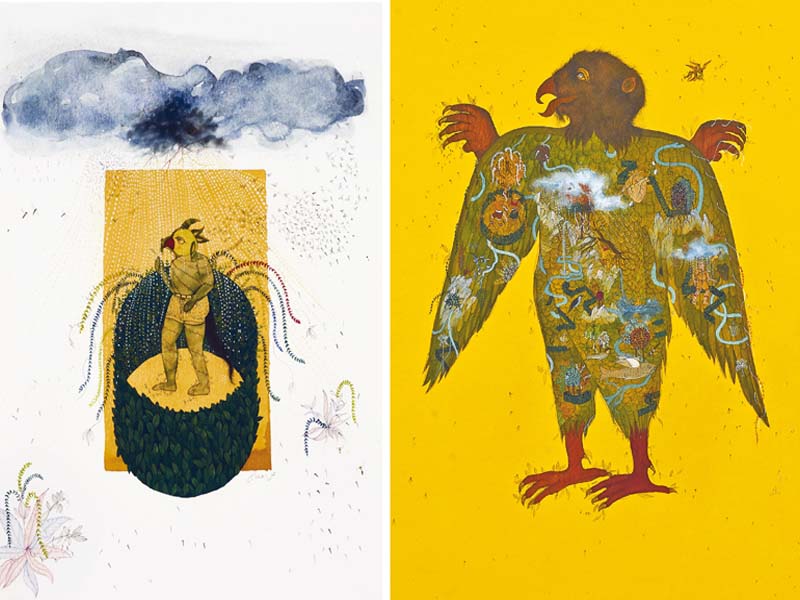 ---
LAHORE:

A solo show titled 'Of trees and other beings' by Wardha Shabbir, a Lahore based miniature artist, went on display at the Rohtas 2 Gallery on Saturday.

Drawing inspiration from her surroundings, the artist uses strong imagery to create an illusion of a world which is beautiful on the surface, but deep down it is also savage like hidden human and animal instincts.

According to Shabbir, the experiences within her environment have enabled her to acknowledge the undertones of the flourishing dystrophic world which is steeped in discourses of cruelty, violence and power.

Shabbir said that by employing perplexing personal imagery and language in her work, she tries to explore a connection between different entities.

"By creating a hybrid of entities and creatures, I've attempted to depict these elements as a metaphor for man's inner turmoil", Shabbir said.

"The work unfolds a mirror to the world of living beings, portraying its transformation from specie to species", she added.

Shabbir says that she constructs her imagery identifying with the words of Antonia Boström.

"Taking Labyrinth as a source of inspiration, which can be defined as a place in which we lose ourselves in order to find ourselves, is intriguing".

A total of 13 pieces by the artist will remain on display till December 15 at the gallery.

Published in The Express Tribune, December 4th, 2016.