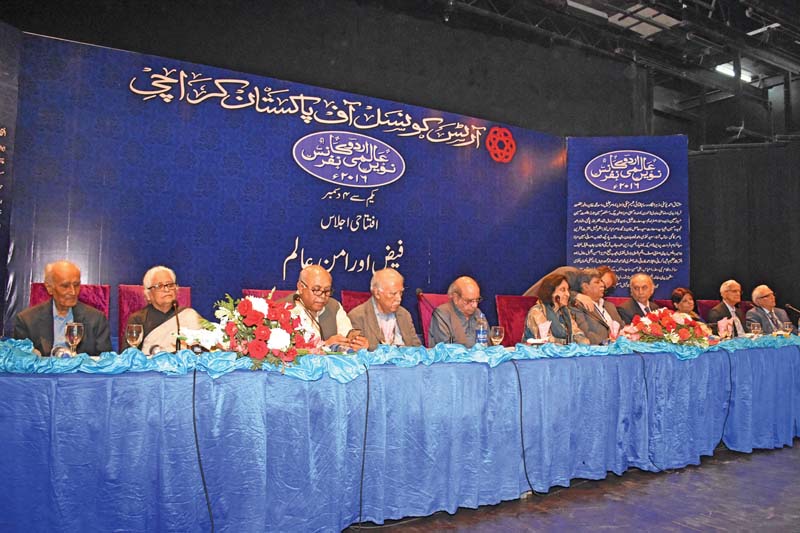 ---
KARACHI: We can acknowledge, but not truly understand, the suffering of Faiz Ahmed Faiz, as personified in his poetry. He suffered at the hands of the intelligentsia over an accusation of hatching a conspiracy against the state and was jailed for years. This led Faiz to live out his life predominantly in self-imposed exile.

A session, titled 'Faiz and World Peace', was held to celebrate the poet at the ninth Aalmi Urdu Conference on Friday at the Arts Council of Pakistan, Karachi.

"His era marked the era of sensibility. He always said his pain was chartered for the causes of humanity," said writer Asghar Nadeem Syed. "Prior to the creation of Pakistan and later, too, he called out for Indo-Pak harmony. This man faced numerous challenges in his life but held on to understanding others on the terms of dard ka rishta [relation of empathy]."

Poet Fahmida Riaz remembered Faiz as an icon of peace. "People like Faiz and Picasso lit the world with their beliefs in peace and harmony."




Poet Kishwar Naheed, too, recounted the times when Faiz was freed from jail and how people like singer Noor Jehan, who was a great fan of his work, presented him with a fruit basket on his arrival home.

Broadcaster Reza Ali Abidi asserted, "One got to understand Faiz better once he came to live in the apartment of Iftikhar Arif in London". In those days, his work was being translated into English, he explained. "The [work] remains not just to give out a message, but to reach out to the masses on a higher scale, which he was able to do." Abidi said that today, Faiz's work is even being translated into Hindi.

Writer Arif Naqvi recalled how he had spent time in the company of Faiz in Germany. He remembered that days before he died, during his final interview, which he had given to Naqvi, Faiz still maintained the need to promote peace and harmony and believed that writers from the Subcontinent must promote this cause.

Zafarullah Poshni, who was once incarcerated alongside Faiz, said, "It was due to the great personalities of two men, Faiz and Sajjad Zaheer, that I realised how to combat a troubling solitude". It was through Faiz that I learnt the art of remaining content and fighting stress in troubled times, he said. "Amongst the people who were imprisoned because of false charges against us, he was the one who never fought with the others nor did I ever find him to be hot-tempered," recalled Poshni. "In his company, one was greatly amused with his defiant courage."

Baloch politician Mir Hasil Bizenjo praised Faiz for his courage and his writing, whereas rights activist IA Rehman remembered him for his writing on peace and freedom.

Poet Zehra Nigah shed light on his work, writings and Qaid-i-Tanhai [solitary confinement]. "When people used to ask him about solitary confinement in jail, he would say, 'no there was no pain, only the fear of the lizard'," said Nigah. She also recalled how she questioned him once about not losing his temper ever, calling him a 'poser', to which Faiz replied that when he was angry he 'switches off his button'. I have still not discovered that button, she laughed.

Nigah said she was honoured to have been able to play hostess to him on his numerous trips to London, relating what Mushtaq Ahmed Yousufi had one stated, "Only three men have been found to possess the charms of chivalry and grace of tongue and mannerisms in the history of Urdu literature; Altaf Hussain Hali, Rasheed Ahmed Siddiqui and Faiz Ahmed Faiz."

Published in The Express Tribune, December 3rd, 2016.