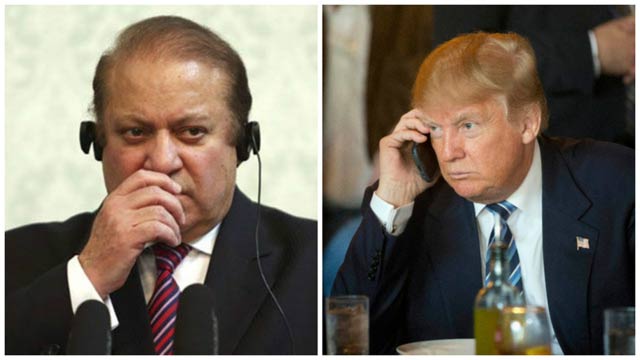 ---
ISLAMABAD: Many might have thought it satire initially, but it was not. In a rare development, a telephone conversation between a Pakistani leader and an American one became a headline the world over.

Such was the exchange between Prime Minister Nawaz Sharif and US President-elect Donald Trump that even the entire western media had to cover it prominently.

Would love to visit 'fantastic' Pakistan, says Trump

At the heart of the first-ever telephone contact between Nawaz and Trump is the official readout issued by the Pakistani government. In what can be described as a remarkable and unprecedented conversation, Trump heaped praise on Pakistan and its prime minister.

Telephone conversations between world leaders are usually reported carefully using diplomatic language. But in this case, the Prime Minister's Office released the transcript showing how Trump was all praise for Pakistan and its people.

It appears that Premier Nawaz was not even expecting such warmth from Trump. His office apparently was so overwhelmed by the 'flowery language' purportedly used by the president-elect that it released the official statement in a hurry, only to issue a revised version later after correcting the typos and other mistakes in the first version.

The Trump office, in a separate statement, would not say if the president-elect used all these words. But it did confirm that he had 'productive conversation' about how the United States and Pakistan will have a strong working relationship in the future. "President-elect Trump noted that he is looking forward to a lasting and strong personal relationship with Prime Minister Sharif," it said.

Pakistan's handling of the telephone conversation, however, was not taken well by the mainstream American media, which insisted that Islamabad breached protocol by releasing the transcript. CNN said readouts of phone calls between world leaders are usually summarised in order to protect leaders from incidental backlash – like the one the Trump team put out. They're dry and diplomatic statements recapping conversations using carefully chosen buzzwords.

The things Trump has said about Pakistan

And political insiders say the calls themselves are usually quite formal. "A president wouldn't gush over a foreign leader the way that Donald Trump did. He wouldn't volunteer to do all these things," said CNN political analyst David Gergen, who has served as an adviser to four presidents.

But former ambassador Ali Sarwar Naqvi said the Trump office would have contested the Pakistani version if it was not reported accurately. Although Naqvi agreed that normally telephone conversations are not reported like this, he added that a transcript can be released if the discussions are not confidential or the other side has no issue with it.

Trump's unexpected praise for Pakistan and its prime minister has also attracted attention globally because the president-elect had previously taken a tough stance on some of the policies Islamabad had pursued.

For example in 2011 he tweeted "Get it straight: Pakistan is not our friend" after Osama bin Laden was killed in a secret US raid in Abottabad. "When will Pakistan apologize to us for providing safe sanctuary to Osama Bin Laden for 6 years?! Some 'ally','" he tweeted in 2012.

Trump's pledge to work closely with Pakistan's premier will certainly not go down well with India. In October, Trump said the US and India would be 'best friends' if he was voted to power.

A Trump Tower in Islamabad?

An American national currently working with an international NGO in Pakistan said Trump had no experience in foreign policy. "I doubt if he is even aware of the complexities of this part of the region. So, his flip flop is not shocking," the American national told The Express Tribune without being quoted on the record because of the nature of his job doesn't permit him to do so.

Moeed Yousaf, a Washington-based commentator, described the Trump-Nawaz phone talk as positive development. Moeed said it was too early to assume that US under Trump would be tough on Pakistan and closer to India.

Asked to comment on the unusual telephone talk, Foreign Office spokesperson Nafees Zakaria said Pakistan attaches high importance to its relationship with the US and would like to see it strengthen further.

"We look forward to closely working with the new administration. The president-elect's intention to visit to Pakistan would be warmly welcomed," he told reporters here at the weekly news briefing. "Pakistan welcomes Mr Trump's willingness to play a role in resolving the outstanding issues between Pakistan and India, including the core issue of Jammu and Kashmir," Zakaria further said.

Contrary to public perception, foreign policymakers of Pakistan are not that pessimistic about the future of Pakistan-US ties under the Trump administration.

But, Ambassador Naqvi has a word of caution saying the government must not read too much into the warmth shown by Trump towards Pakistan. "These are still early days and we cannot predict what policies he will ultimately follow," Naqvi stressed.

Published in The Express Tribune, December 2nd, 2016.