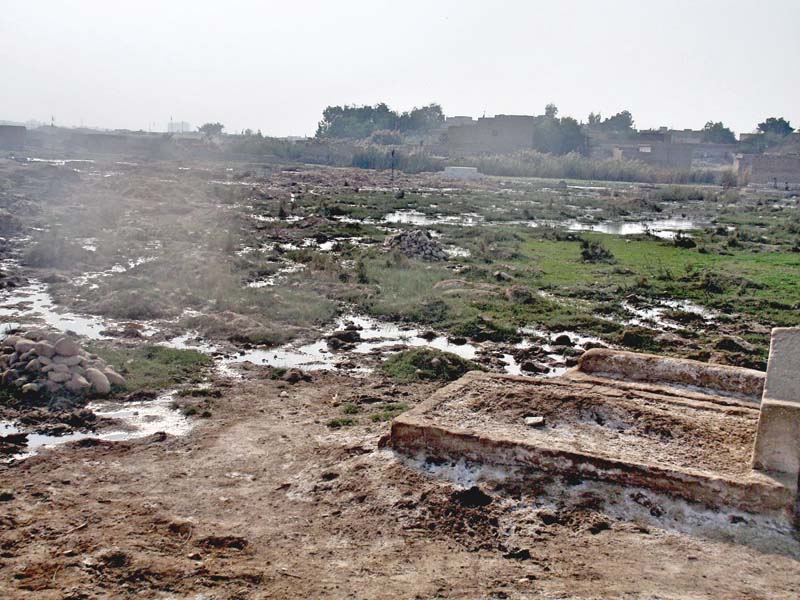 ---
SUKKUR: People in Pakistan often decry social injustice and discriminatory treatment by various departments towards the rich and the poor, which is quite right. The people of upper Sindh, however, have the good fortune of having at least one department that treats the living and the dead equally. The North Sindh Urban Services Corporation (NSUSC) has turned a blind eye to the accumulation of sewerage water in the Pir Murad Shah Graveyard in Old Sukkur for a long time. People have to wade through the muck to find dry patches where they can bury their loved ones.

The Pir Murad Shah Graveyard is one of the oldest graveyards in the city and supposedly dates back to pre-Partition times. The graveyard was once spread over a huge stretch of land but as encroachments started mushrooming, the graveyard's area shrank.

An elderly resident of Pir Murad Shah Colony, Ali Akbar, said that as there was no boundary wall around the graveyard, encroachers began constructing homes and shops after bulldozing graves. "This practice was so commonplace that a religious political party also constructed a seminary on the graveyard's land," he added. According to Ali, the residents of the Pir Murad Shah Colony have been protesting against the release of sewerage water into the graveyard for a long time, but nothing has been done.

Another resident, Yasin Mirani, said they have been facing difficulties burying their dead, because sewerage water is everywhere in the graveyard. "Hundreds of graves have disappeared due to the stagnant water," he lamented, adding that rainfall compounds the problem. Taking jibes at the NSUSC and district administration, Mirani said, "When the utility cares nothing for the living, why should it take care of the dead?"

It seems the poor in this country are born to brave miseries, he added. "I have been living in this area since 1981 and have seen the graves of my elders cave in due to the stagnant water," he lamented.

NSUSC spokesperson Malook Buledi said that the problem of accumulated sewerage water at the Pir Murad Shah Graveyard is old and the NSUSC was established only five years ago. "We don't have the authority to prevent encroachments and the encroachers are releasing wastewater into the graveyard," he explained. "They have also obtained water connections without the approval of the authority concerned."

Buledi said NSUSC plans to divert the sewerage water to the nearby Gadani disposal station. For the purpose, he claimed, 80% work has been completed and the remaining 20% will be completed within a couple of days. He also pointed out that, a religious political party has constructed its seminary on the graveyard's land and they, too, are releasing wastewater in the graveyard. He claimed that the stagnant water will be drained out by next week.

Published in The Express Tribune, December 2nd, 2016.

 
COMMENTS
Comments are moderated and generally will be posted if they are on-topic and not abusive.
For more information, please see our Comments FAQ