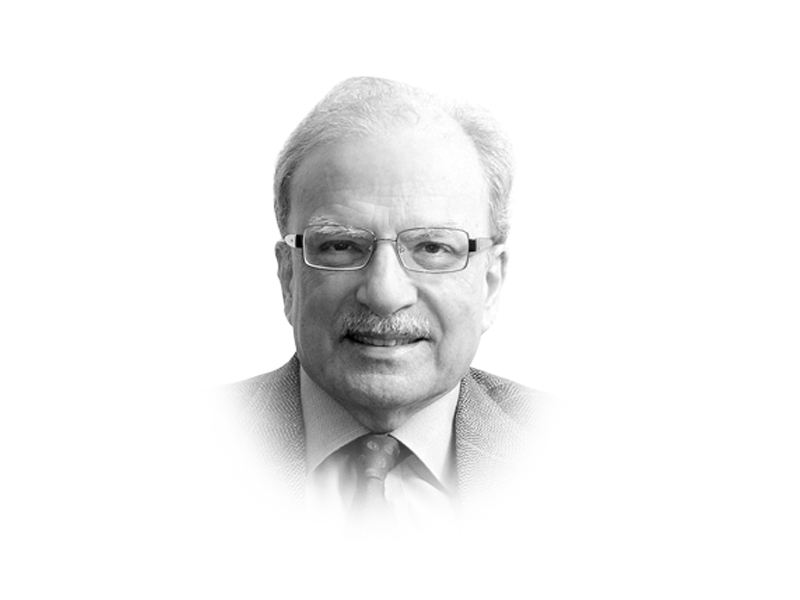 ---
I knew Moeen Qureshi well enough to be able to write a book about him. I may still do that. A couple of years ago we started working on one but then he was first distracted by the prolonged illness of his wife and then by his own health problems. His death on November 21 was not unexpected. He was ill for several months; his health deteriorated steadily and about ten days ago he returned from the hospital to the Manor – the house in which he had chosen to pass his last few months – essentially to die. He passed away quickly and gently.

Those of us who kept in touch with him knew that he would not be with us for long. And yet his loss for the large Pakistani community in the Washington area was real. His funeral on November 26 was well attended. I was one those who were privileged to get very close to him and to appreciate the many qualities this remarkable man possessed in abundance. The press in Pakistan has covered well his life and the contributions he made to the many institutions in which he held high positions. He also served Pakistan as "care-taker" prime minister at a very delicate moment in that country's history. In this article I will offer some personal reflections drawn from my long association with him. He had a real love for Pakistan, the country he had left not too long ago after it gained independence.

I came to know Moeen – that is the way he preferred to be called – when he telephoned me one day in 1980. He was then the head of the International Finance Corporation, the private sector arm of the World Bank Group. Robert McNamara, then the World Bank president, had earlier persuaded Moeen to cross the 19th Street that separated the International Monetary Fund from the World Bank. Moeen had been at the IMF for almost two decades. He accepted McNamara's offer and was appointed Chief Economist at the IFC and later became the agency's head.

Moeen's telephone call to me was about my book, Pakistan Under Bhutto, which had then been published in London. He said he had read some reviews in the press and wondered whether he could borrow a copy for his son who was working on a paper on Pakistan.  In the book I had traced the difficult circumstances of Pakistan's birth and discussed the period of Ayub Khan when the country, with a GDP growth rate of almost 7 percent a year, had come to be cited in the West as the model other developing nations could follow. I was critical of the policies adopted under the administration of Zulfikar Ali Bhutto which, because of the extensive nationalisation of private economic assets, had destroyed the momentum generated by Ayub Khan's approach. I concluded the book with a discussion of the programme of economic recovery overseen by Ghulam Ishaq Khan who was well-known to Moeen.  He read my book, thereby starting a deep friendship that lasted for nearly four decades.

Moeen liked that I had given so much attention to the difficulties Pakistan faced when it gained independence. He had seen some of that as an official at the State Bank of Pakistan. Later generations of Pakistanis have not recognised that those leading the country in 1947 were faced with heavy odds. The Indian government then headed by Prime Minister Jawaharlal Nehru had done its best to cripple Pakistan at its birth. The Indian leader believed that the fledgling Pakistani government, not able to run the country, would plead for being rejoined with India.

We often met for lunch in the World Bank's dining room and talked mostly about Pakistan. He would start these conversations by asking me what was happening in our country. Even if he was critical of the policies the government of the day was following, he never abandoned the view that, properly governed, Pakistan could still become one of Asia's fastest developing nations. It was that hope that took him to Pakistan as prime minister in the summer of 1993 to steer the country through a serious political crisis. I went with him and stayed at the residence of the prime minister. This meant that we had a lot of time to spend together discussing the Pakistani economy and its society.

He had asked me to write a program aimed at improving the structure of the Pakistani economy. He suggested that in developing the programme I should give particular attention to two things: improving the quality of governance and developing a working relationship between the public and private sectors of the economy. The fact that two elected prime ministers had been forced out of office by the president on charges of corruption and mismanagement pointed to importance of good governance. To underscore that point, he decided to publish two lists that provided the names of the people who had obtained large loans from the banking sector but had defaulted at no cost to them. The second list included all taxpayers and how much they had paid to the government.

What was written in the program was presented by the caretaker prime minister to the nation in a television address in late August 1993. One way of honouring his memory would be to revisit that program written 23 years ago and implement what is needed to reinvigorate Pakistan.

Published in The Express Tribune, November 28th, 2016.

Like Opinion & Editorial on Facebook, follow @ETOpEd on Twitter to receive all updates on all our daily pieces.

 
COMMENTS
Comments are moderated and generally will be posted if they are on-topic and not abusive.
For more information, please see our Comments FAQ