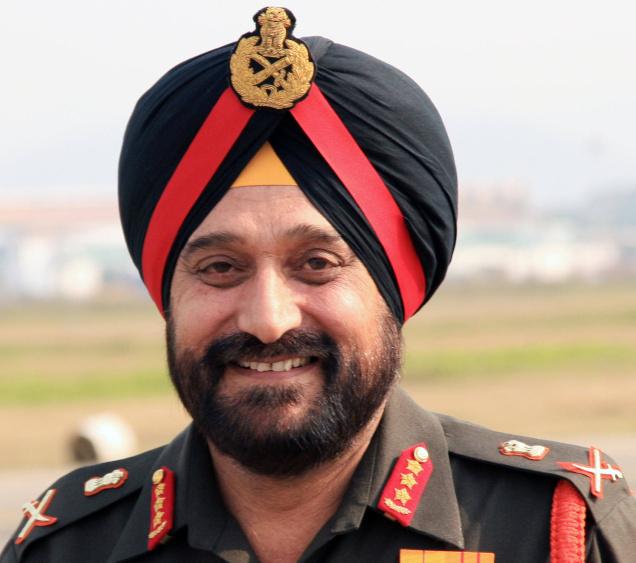 ---
Former Indian Army chief General Bikram Singh has praised Pakistan's new Army chief Lt Gen Qamar Javed Bajwa as a  true 'professional'.




"In the UN operations, General Bajwa's performance was totally professional and outstanding. But a military officer's conduct in the international environment is different from the way he conducts himself back home. There, he is governed by his country's national interests," General Singh was quoted as saying by the Times of India.




General Bajwa served as a brigade commander in the UN peace-keeping operations in Congo in 2007 under General Bikram Singh.




Singh further said it's important to "wait-and-watch" how General Bajwa conducts himself.




"General Bajwa is well-versed with the complexities, nature of operations and terrain along the LoC. He has also handled Kashmir extensively during his career," another Indian army official was quoted as saying.




Lt Gen Qamar Javed Bajwa appointed new army chief




Prime Minister Nawaz Sharif on Saturday appointed Gen Bajwa as next army chief.


The appointment of Gen Bajwa has come as a surprise to some given that he was second last in order of seniority among the five generals whose names were forwarded to the prime minister to fill the key slots of Chairman Joint Chiefs of Staff Committee (CJCSC) and Chief of Army Staff (COAS).

Although a military official said seniority was irrelevant in this case since all were course mates. Premier Sharif preferred Gen Bajwa over Corps Commander Multan Lt Gen Ishfaq Nadim Ahmed and Corps Commander Bahawalpur Lt Gen Javed Iqbal Ramday in view of certain considerations.

What impressed Sharif about Gen Bajwa is his 'apolitical nature' and crucial role he is thought to have played in supporting the democratic process during the 2014 dharna by Imran Khan's Pakistan Tehreek-e-Insaf (PTI).

Gen Bajwa was corps commander Rawalpindi at that time, one of the most important corps in the army responsible for security along the entire Line of Control (LoC) as well as strategic installations in and around Islamabad.

Profile of new COAS

Born in Gakhar Mandi, Gujranwala, Gen Bajwa was commissioned on October 24, 1980 in the 16 Baloch Regiment, the battle-hardened force that in the past has given three army chiefs, including Gen Yahya Khan, Gen Aslam Beg and Gen Ashfaq Parvez Kayani.

According to the Inter-Services Public Relations (ISPR), he is a graduate of Canadian Forces Command and Staff College-Toronto, Naval Post Graduate University-Monterey, California and National Defence University (NDU)-Islamabad. He has been an instructor at the School of Infantry and Tactics, Quetta, Command and Staff College, Quetta and the NDU.

He has also been Brigade Major of an Infantry Brigade and Chief of Staff of Rawalpindi Corps. Bajwa has commanded the 16 Baloch Regiment, an Infantry Brigade as well as Infantry Division in Northern Areas.

Hail the new Chief!

He had also commanded Pakistan Contingent in Congo, where he worked alongside the former Indian army chief General Bikram Singh, who according to the Hindustan Times, described Gen Bajwa as an 'outstanding and professional solider'.

Before being named the new army chief, Gen Bajwa was serving as the Inspector General Training and Evaluation at the General Headquarters (QHQ), the same post Gen Raheel was holding before being appointed as the army chief in November 2013.

Being the corps commander of Rawalpindi, the incoming army chief has vast experience of dealing with issues related to Kashmir and the LoC, which is currently the focus of attention due to the bloody exchanges between the border guards of the two countries.

'Down to earth, intellectually very powerful'

A serving three-star general, who knows Gen Bajwa personally, described the new army chief a "down to earth and very hard working" professional.

New Army chief should carry forward Gen Raheel's legacy: Khawaja Asif

"He rules hearts and is quick in decision making," the military official said while speaking to The Express Tribune on condition of anonymity since his position does not permit him to speak to the media.

The official also described Gen Bajwa as highly educated and very powerful, intellectually.

Another official, who is aware of the working style of the new army chief, said Gen Bajwa is a 'pure professional' and easy going. "He is a tough guy when it comes to discipline and professionalism."

Like his predecessor, Gen Bajwa would be leading his men from the front.



This article originally appeared on Times of India.