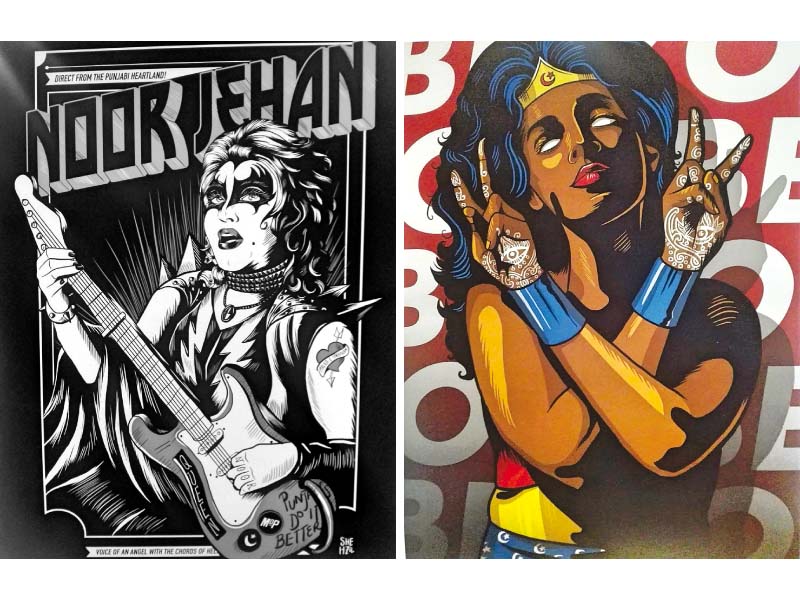 ---
LAHORE: The identity and roles of people in Pakistani society have been depicted in the work of Shezil Malik titled 'Notes to Self', on display at The Last Word, a bookstore.

"I try to look at familiar beliefs and visuals with fresh eyes and a questioning perspective as a way of figuring out what it means to be young in Pakistan – from the eastern roles we are expected to play to the Western/pop culture influences that shape who we are," Shezil said while talking to The Express Tribune on Friday.

According to the illustrator, her work is inspired by her experiences and she often draws as catharsis to process what she sees in her surroundings.

The artist's work is characterised by strong lines and bright colours that collide to form bold graphics on Pakistani politics, feminism and pop culture. Through her work she questions what activism in the digital age looks like and whether mind sets can be changed with art, she said, adding her art is about having an alternative perspective and breaking out of our default settings.

Talking about her art prints titled 'Juice Box', Shezil said that the piece was created in reaction to every evening at home where my parents would tune into news channels with overzealous anchors and bickering guests, unethical coverage of terrible events and pointless shouting matches.

Similarly, another art print, titled 'Noor Jehan' portrays the legendary artist as a western pop musician. The piece was originally created for a client and being personally drawn to music and female icons, I chose to draw Noor Jehan, she said. "My work often blends eastern visuals with pop culture and I had to think how I could make Noor Jehan relevant to the younger audience," she elaborated.

One of the art prints celebrating feminism in the local context, titled 'Desi Wonder Woman" is about localising the concept of gutsy and strong female icons. "I often feel there are not enough representation of strong Muslim women – which is why I draw them myself," she said.

Shezil said she had originally drawn the image as a reaction to feeling trapped by arbitrary rules of modesty and the pressure to conform to the lifestyle she is expected to.

"Once I had drawn the 'Desi Wonder Woman', I realised that I have technically created a brown version of a strong white woman, which in turn made me realised that we needed more desi or local woman icons to look up to and we are all a part of this new mishmash of traditions, pop culture and internet that forms our identity," she said.

The artist's 12 art prints will remain on display for a week at the bookstore.

Published in The Express Tribune, November 27th, 2016.